Ohio State University attack leaves 11 hospitalized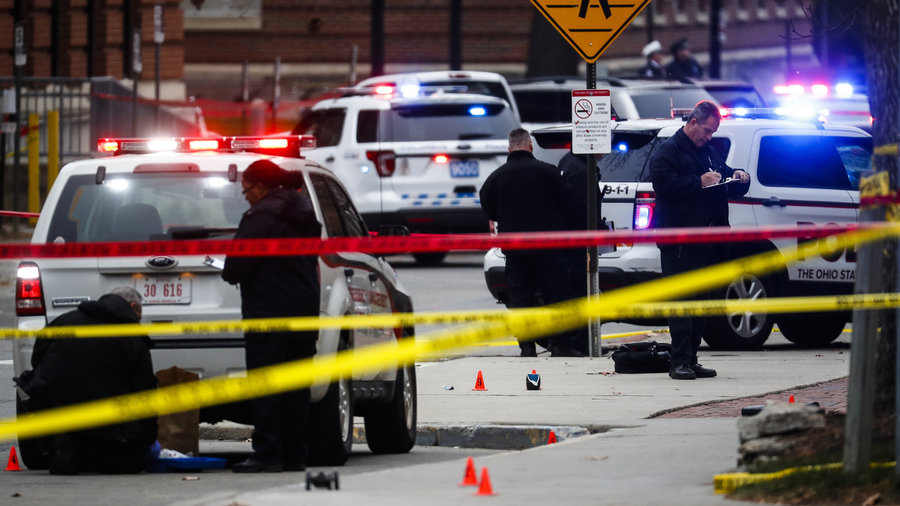 Photo courtesy of John Minchillo, AP
Ohio State police secure the scene following attacker's rampage.
Ashley LaFayette, Co-News Editor
Chaos broke out on Ohio State University's campus on Monday, Nov. 28, when a car rammed into a group of people outside of Watts Hall. The driver, Abdul Razak Ali Artan, then exited his vehicle and began slashing at people with a butcher knife. Refusing to obey orders and drop his weapon, Artan was shot and killed by Ohio State Police Officer Alan Horujko.
The incident lasted only two minutes. Witnesses said Artan was mysteriously silent during his rampage, even as he was shot. 11 people have been hospitalized due to the attack, with one victim in critical condition while the rest remain stable.
Artan was a refugee from Somalia who had previously lived in Pakistan before he became a legal resident in the United States along with his mother and siblings in 2014.
He transferred from Columbus State Community College to Ohio State University with an Associate of Arts Degree. Artan was a devout Muslim, a cricket athlete and an employee of Home Depot. Those who knew him said he was a friendly person and had never shown a sign of violence.
Artan was recently featured in Ohio State's newspaper, The Lantern. The article discussed how he was afraid to pray in public on campus because he did not feel safe as a Muslim. He missed having access to the prayer spaces offered at Columbus State Community College. He also explained how the media has altered society's picture of Muslims, saying, "I'm a Muslim, it's not what the media portrays me to be."
Minutes before the outbreak, Artan posted an angry, ranting status toward the United States, complaining about the mistreatment of Muslims not only in the U.S. but around the world, and said that he was "sick and tired of seeing fellow Muslims killed and tortured." Friends of Artan remain confused by his actions, with one, Ameer Kadar, stating that Artan "loved America" and the opportunities it provided him to get an education.
According to Ohio State University President Dr. Michael V. Drake, the community's ability to remain in order while the scene was secured is due to the active shooter training provided by the school, along with the campus' alert systems.
Lewis provides a similar active shooter training program to prepare students in the case of a violent situation, with the upcoming sessions being held on Dec. 19, Jan. 27 and Feb. 10.
Students can up for any of the sessions, you can email Campus Safety Officer Claire Singleton at singlecl@lewisu.edu.