Non-profit raises money at Lewis to help Ugandan village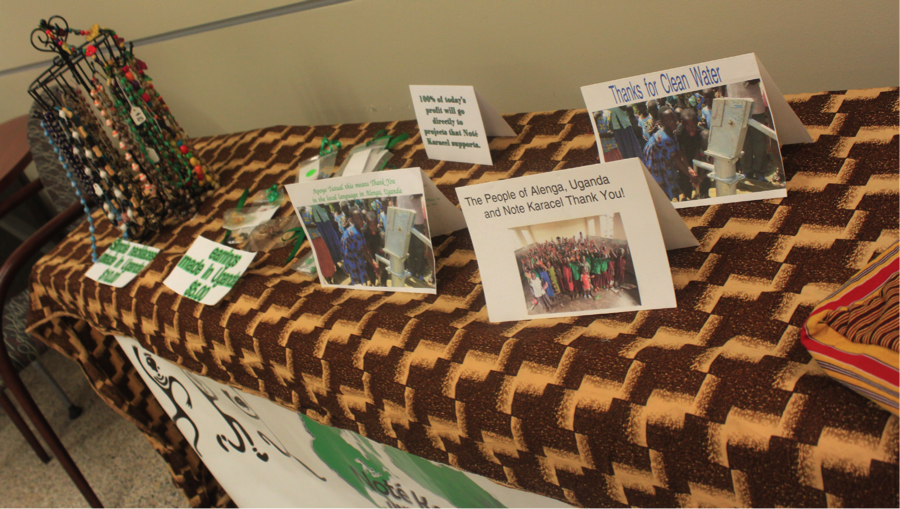 Photo courtesy Julia Mach
A table at the event displays the different items being sold by Noté Karacel, and explains how the money will be used.
Julia Mach, Religion Editor
"Shopping with a Conscience" was an on-campus event held on Dec. 1 in order to help support the work of Noté Karacel, a non-profit organization that serves to help develop the community in the central community of Alenga, Uganda.
Noté Karacel translates to "unite together," and according to their website, the organization gathers funds to help provide an opportunity for human thriving through education, water security, healthcare and agricultural innovation.
"We're supporting clean water, we are supporting the education of young girls… we are ensuring eye health and actual vision and we are support[ing] other aspects of the health clinic," said Dr. Christie Billups, assistant professor of theology, director of pastoral ministry and director of service learning.
Noté Karacel supports a boarding school, tailoring school, a medical and eye clinic, orphans and clean water.
"We really try to think of ourselves as connected, not as charitable," Billups said. "It's not about charity. It's about walking side by side and enriching. We are helping people enrich their own lives in the setting that they live. Christmas is a time to remember that we are connected and that we are a whole world community."
Along with Billups, this organization is made up of six people who want to make a difference in the Ugandan community.
The remainder of the work being done by Noté Karacel is accomplished through volunteers and generous donations.
According to nurse Ann Ryan, one of the six leaders of Noté Karacel, the organization began with Fr. Stan Atipoupou, who works onsite in the Alenga Parish as a Comboni priest. He is the heart and soul of Noté Karacel.
Billups met Fr. Atipoupou while she was earning her theology doctorate. He would soon feel the calling to help the poorest of the poor and became a Comboni priest to do so.
He encouraged Billups to begin a non-profit for more than 50,000 people who need clean water and other basic needs. She agreed, because the people of Alenga were so gracious – especially the children.
Since the beginning, Noté Karacel has grown immensely through the work of many volunteers and sponsorships with schools like Lewis, Regina High School and Rosary High School.
Through these sponsorships, high school girls have been able to raise funds to sponsor Alengan girl. Noté Karacel currently has 42 Alengan girls who have one-on-one sponsorships, which means they get to go to a boarding school for 13 years.
Noté Karacel focuses on sponsoring the girls in the region, because families who do have a bit of money will send the boys to school before the girls. Many other girls are sponsored to go to the two-year tailoring program.
"When I went there as a nurse, there was a couple of pairs of gloves that were being rinsed repeatedly [at the medical clinic], in [an] area where there is a lot of HIV. So, we are now able to regularly buy basic supplies, including gloves, for the clinic," Ryan said of her trip to Alenga.
Since her visit, the organization repaired a run-down ambulance to help transport women with at-risk pregnancies to clinics located hours away.
"When youth are inspired to do something amazing, they inspire the adults around them," Ryan said.
To learn more about Noté Karacel and their volunteer opportunities, visit their website at www.notecaracel.org.