New shuttle bus service hits the streets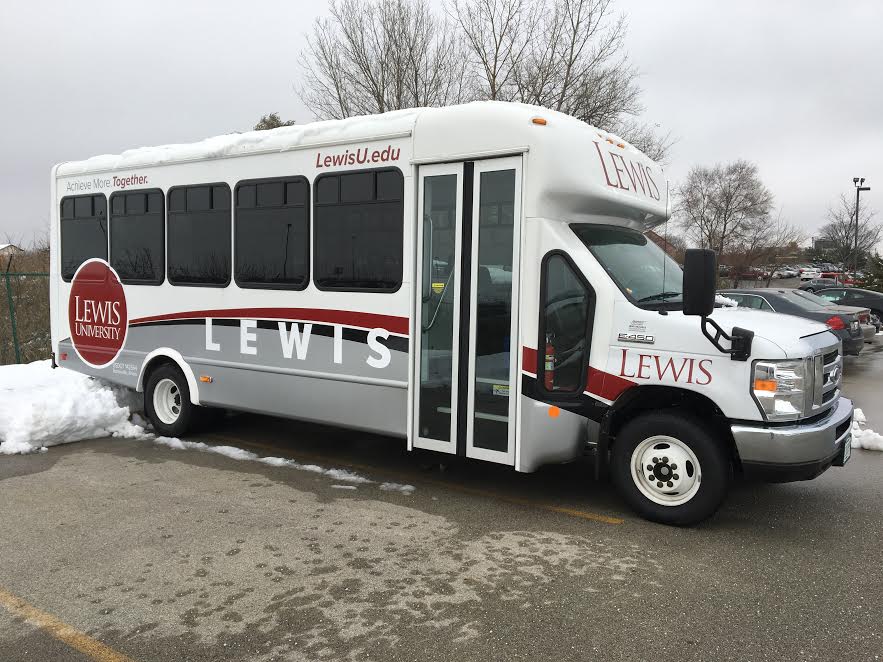 Photo by Ashley LaFayette
The new shuttle bus services are available to all Lewis University students and faculty.
Ashley LaFayette, Co-News Editors
One of the first improvements to student life on-campus that Dr. Livingston has accomplished since assuming his role as president was the purchase of a new shuttle bus, which will work as a system of transportation for students to and from campus.
The LUPD has since taken charge of the project, and the shuttle bus made its debut with a "soft opening" on Nov. 18. Dr. Livingston, along with some senate students, rode the bus around campus before heading to the Louis-Joliet Mall. After a series of trial runs through the end of the semester, the bus will officially begin its routine routes at the beginning of the spring 2017 semester.
The shuttle bus, which accommodates 25 passengers, will operate on weekends from Friday to Sunday at scheduled times. On Fridays it will travel to downtown Naperville, Saturdays will consists of a trip to the Louis-Joliet Mall, and on Sundays it will make multiple stops along Weber Road, including Walmart, Target, Kohl's and Walgreens. There will also be occasional "Special Nights," in which the bus will go to the Brunswick Zone in Romeoville for bowling or the outlet mall in Aurora for shopping outings.
"When I was a campus safety officer working at the front gate, I always saw students that were, for lack of a better word, stranded. Honestly, there's nothing around here. So this service gives students the opportunity to go off campus and pick up groceries and do other recreational activities on the weekends." said Transportation Coordinator Neil O'Connel.
Student opinions are highly valued in deciding routes for the shuttle bus. The "Question of the Week" polls sent out to student emails played a large role in deciding the current routes.
"We are going to constantly be talking to students to determine what changes they would like to see," O'Connell said.
LUPD hopes to eventually launch an app that will provide students with the ability to see where the shuttle is at any given time.
The main challenge LUPD faces is finding drivers for the bus. As of now, there is only one driver.
"We really didn't have a pool of drivers to go off of, so we put an application out on Lewis's website for anyone interested to fill out the information," O'Connell said.
O'Connell has been busy conducting interviews in hopes of securing at least three drivers by the start of next semester. "All of the candidates seem interested, and I think they would do a great job engaging students," O'Connell said. "Since the police department has never taken on anything like this before, everything will be done in baby steps to see how it goes. Right now it is going to do nothing but grow."
The new shuttle bus services are available to all Lewis University students and faculty.