New Lewis Supercomputer honors Dr. Paul Kaiser
Samantha Carlson, Co-News Editor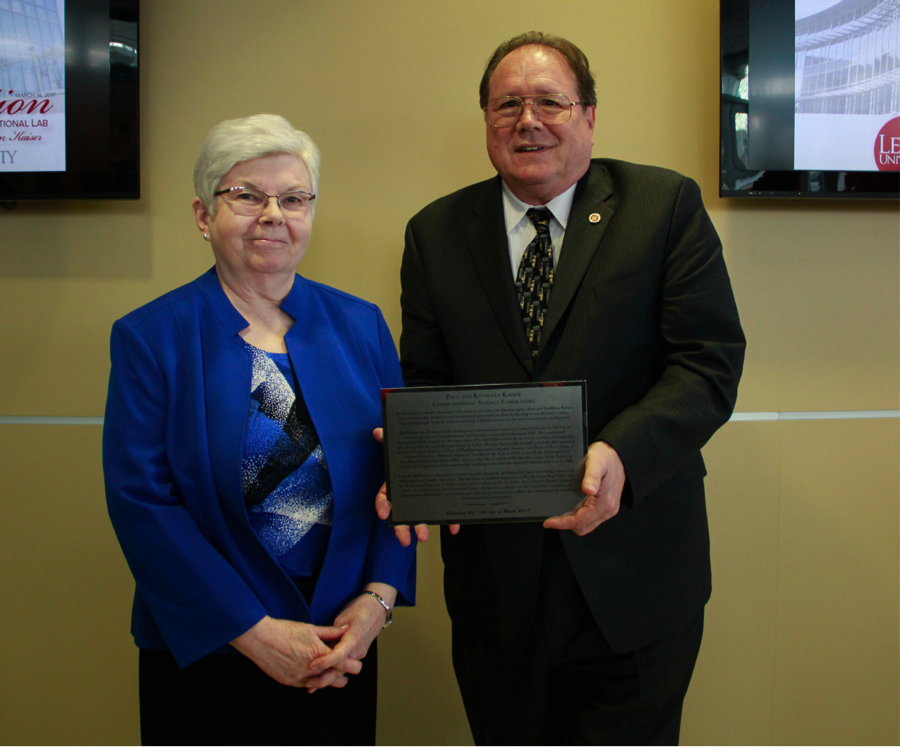 Photo courtesy of Flickr user Lewis Alumni.
Paul (right) and Kathleen Kaiser (left) attend the dedication of a computation lab in their honor March 14.
In honor of Dr. Paul Kaiser, former professor of mathematics and computer sciences, Lewis set a goal to raise $10,000 to build a supercomputer for student and faculty use.
Dr. Kaiser, who worked at Lewis for 34 years, originally built Lewis' first supercomputer. Although the original supercomputer is not in use today, it is an essential foundation for the building of a new and permanent supercomputer.
The original supercomputer consisted of five desktop computers all working simultaneously, sharing data to get work done quickly.
Ray Klump, professor and chair of computer and mathematical sciences, is one of many volunteers overseeing the supercomputer project.
"The supercomputer built by Dr. Kaiser and his students was only used once, but it proved the concept of how a supercomputer would work," Klump said. "With a supercomputer, students and faculty will be able to conduct a lot of different research, do additional computer processing and perform image analysis."
"The difference between this supercomputer and the one built by Dr. Kaiser is that this one will be faster and more capable to solve tough problems," Klump said.
Supercomputers "harness the power of combinations of incredibly sophisticated processors and impressively large amounts of memory to examine problems with a level of detail that helps researchers gain new insights about real systems and problems," according to the supercomputer donation page.
Although all majors can benefit from the supercomputer, it is especially appealing to computer science and aviation majors due to the advances in technology those majors require.
The supercomputer will be kept in the newly named Paul and Kathleen Kaiser Computational Science Lab. All students and faculty will have access to use the supercomputer with proper scheduling.
"Students and faculty from across the university will be able to use the supercomputer to examine pressing issues in their own disciplines and to collaborate on research that helps us understand, educate, safeguard and advance society," the donation page reads.
University of Illinois Urbana-Champaign and Indiana University are a just a few of the many others that have already implemented a supercomputer concept. By adding a supercomputer to the university, it advances Lewis' technology to fit alongside other universities.
Lewis has doubled the goal with a total of over $22,000 in donations so far. Donations for the supercomputer can be made at give.lewisu.edu/supercomputer2017 until April 3. The computer is expected to be ready for use in the fall.