New Cafeteria Introduced In St. Charles Borromeo Center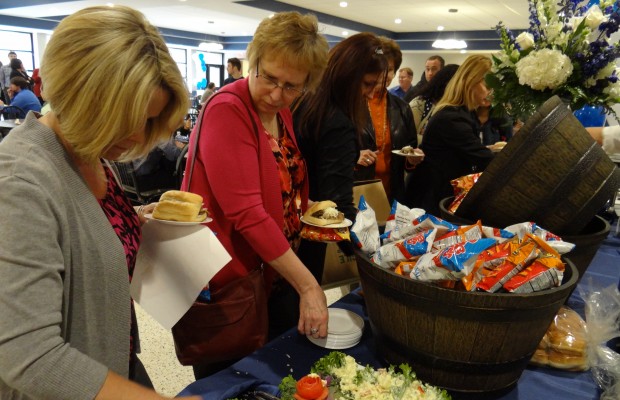 Laura Fox, News Editor
On March 16, the newly renovated St. Charles Borromeo Center hosted an open house for their up and coming cafeteria location.
Students, faculty and staff were invited to attend and enjoy free food, prizes and an opportunity to name the new space.
Although the setup of the cafeteria is not yet complete, there were plenty of places to sit inside, as well as tables outside on the patio.
Director of Operations and Purchasing, Jennifer Skvarla confirmed that the new cafeteria could hold an approximate capacity of 240 people.
A large amount of the campus community attended the event to make cafeteria name suggestions and eat a variety of foods, including mini hot dogs, mini beef sandwiches, salad, chips, popcorn, chocolate cake and cannoli.
Large lists of name ideas were created by students. Of the ideas, some were geared toward the aviation theme of the university, including "Flight Deck," "Aviation Station" and "The Hanger."
It will take some time before the name is decided, because the ideas must be presented before Lewis officials first, but students are excited to make suggestions and have their ideas out there to possibly be chosen, making the cafeteria more personal.
Anna Caruso, sophomore accounting major and student worker for meetings, events and conferences, thinks the cafeteria open house event was a great way for students to socialize.
"It gives students a chance to get together and meet new people. It definitely gives them an opportunity to get out of their classes and have fun on campus," Caruso said.
Based off of the large amount of people in attendance at the preview, the new cafeteria is an exciting addition for all members of the campus community.
"Especially for the students who have all of their classes over here, like me," Caruso said. "It gives us a chance to eat, instead of having to walk all the way back to the main campus and back."
The cafeteria will not be opened officially until the fall semester, leaving the name and the types of foods that will be sold a mystery for now.