Men's Soccer Team Continues Winning Streak as They Head Into Playoffs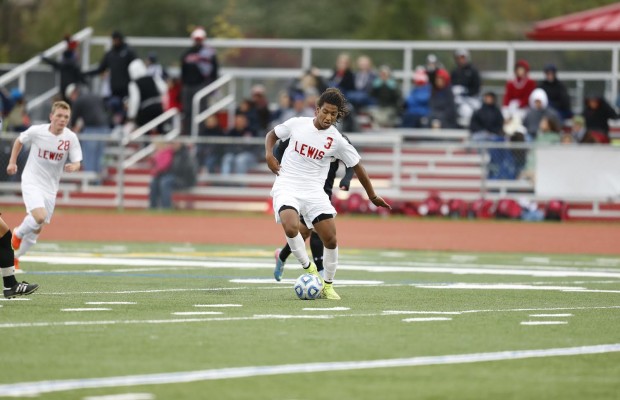 After claiming a victory against  rival University of Indianapolis, the men's soccer team is ready to keep up their winning streak.
Nicole Kappelmann, Assistant Sports Editor
The Lewis University's Men's Soccer team has continued to prevail and is now on the path of a three-game winning streak heading into the final stretch of the regular season.
Shutting out their last three opponents, Truman State, Saint Joseph's and the University of Indianapolis, the men's team has improved their overall record to 10-4-2 (as of Oct. 26).
On Sunday, Oct. 26, the Flyers clinched their third straight victory in a row over rival University of Indianapolis.  With that win, the men's team also guaranteed themselves a fourth-place overall finish in the Great Lakes Valley Conference, as well as a first playoff game at home.
The win also gave men's soccer head coach Evan Fiffles his 300th career victory.
Junior forward Robert Zieba put the Flyers on the map in the final 23 seconds of double overtime.  With that goal, among others, he also earned himself the GLVC Men's Soccer Offensive Player of the week.
"It was a playoff-type game atmosphere," Lewis head men's soccer coach Evan Fiffles said.  "Either team could have won it.  We can play better, but I'm proud of the effort (today)."  (Quote courtesy of www.lewisflyers.com).
On Oct. 24, the men's team took on GLVC opponent Saint Josephs.
Shutting out the Pumas 3-0, junior defender Krystian Nowak, sophomore midfielder Ivan Surlina and Zieba each tallied a goal to put their team ahead.
Nowak took the lead for the Flyers just 20 minutes into the game as he received a pass from junior midfielder Luke Comerouski.
Zieba and Surlina both tacked on their goals in the beginning and end of the second half.
"I thought in the second half we came out, strung some passes together and created some opportunities," Lewis head men's soccer coach Evan Fiffles said. (Quote courtesy of www.lewisflyers.com).
Senior goalkeeper Omar Ramirez had his sixth shutout of the season as he made two saves throughout the game.
On Oct. 19, Lewis defeated the Bulldogs of Truman State in another 2-0 shutout.
Nowak came out strong once again as he headed in a corner kick from junior midfielder Lenin Roa-Tapia to give the Flyers an insurance goal.
It was Zieba once again who put Lewis up first when he scored his first goal of the season right before the first half ended.
"We came out, concentrated and executed the things we needed to do," Fiffles said.  "We took some things we did well on Friday and carried it over." (Quote courtesy of www.lewisflyers.com).
With these three wins and the hope for one more, the Flyers have now been guaranteed a home playoff game on Sunday, Nov. 2.  The time and opponent will be announced at a further date.
The men's soccer team took on the University of Wisconsin-Parkside on Oct. 29 for their final game of the regular season.  For game results, visit www.lewisflyers.com.