Men's Soccer Loses in Overtime, Ending Successful 2014 Season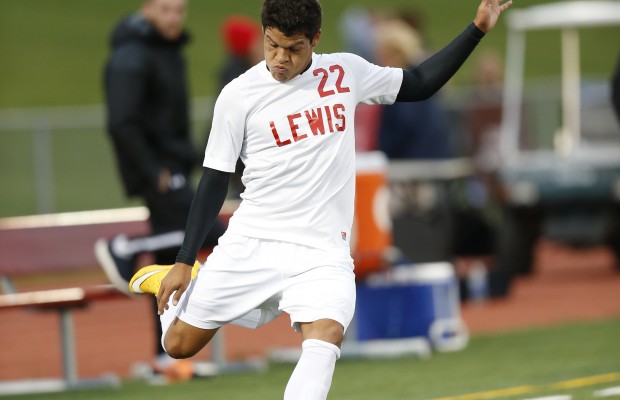 Junior Lenin Roa-Tapia will be vital to success from midfield next season.
Nicole Kappelman, Assistant Sports Editor
Ending their final regular season game in a 1-1 tie, Lewis University Men's Soccer team earned themselves a fourth place spot in the Great Lakes Valley Conference standings.
On Oct. 29, the Flyers played University of Wisconsin-Parkside.  Finishing the game in a 1-1 tie, Lewis ended regular season play with a four game win streak.  Following that game, the Flyers were 10-4-3 overall and 9-3-3 in the GLVC.
Sophomore midfielder Ivan Surlina put the Flyers on top for the first half, before UW-Parkside tied the match up in the second.  Senior goalkeeper Omar Ramirez had six saved shots on the matchup as well.
Following their final contest, the men's soccer team was listed as being tied for sixth place in the Midwest Regional rankings.
On Sunday, Nov. 2, the Flyers took on Rockhurst University at home for the GLVC Quarters game.
Senior forward George Thomson gave the Flyers the advantage as they defeated Rockhurst 1-0 to advance on to the GLVC Quarterfinal match-up.
"I thought we played better in the second half," head coach Evan Fiffles said.  "We settled down, created some chances and got our opportunity on the penalty kick and George (Thomson) put it away for us."
With the win, Lewis will compete for the GLVC Quarterfinal match-up versus the two-time GLVC Conference defending champions of Quincy University.
"We'll take that result against the two-time defending champions," Fiffles said. "This is a big win for us."
On Friday, Nov. 7 the men's team competed for the GLVC Quarterfinal game.  In an unfortunate defeat, Quincy University topped the Flyers 1-0 in overtime.
With the loss, Lewis ended the 2014 campaign with a record of 11-5-3.
Despite the early end to the season, five Flyers were named to various All-GLVC Teams.
Senior defender David Pyle was named to the All-GLVC First Team, Thomson was named to the All-GLVC Second Team for the third time in his career as a Flyer.
Ramirez was named to the All-GLVC Second Team as well.
Junior back Isaac Sutton collected All-GLVC Third Team accolades, while junior forward Robert Zieba earned his first All-GLVC Third Team honorees as well.