Men's basketball team bounces back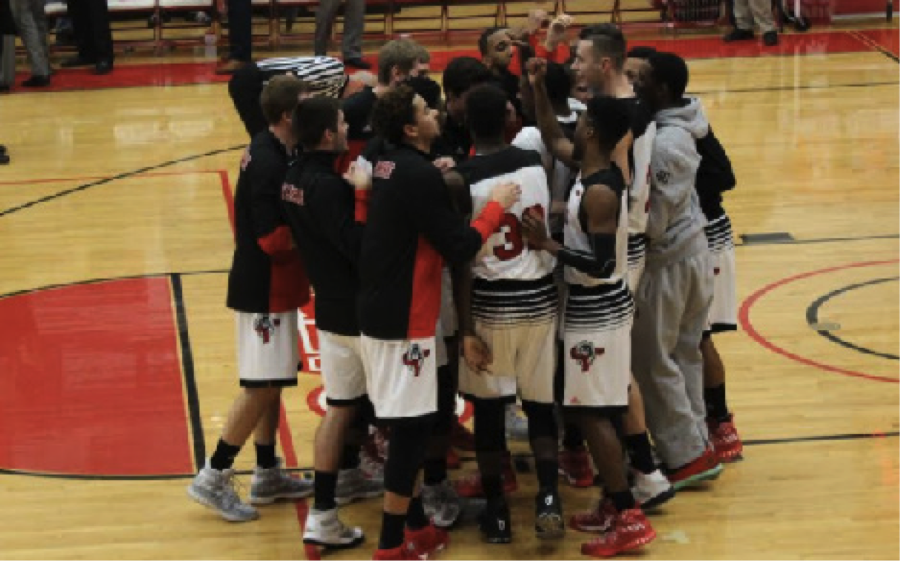 Photo by Keanu Taylor
The Flyers are working to earn a spot in the GLVC conference tournament, which is just a few weeks away.
Keanu Taylor, Contributor
After a three-game losing streak, the men's basketball team responded by winning two home conference games against McKendree and University of Illinios – Springfield (UIS).
The Flyers started their Great Lakes Valley Conference (GLVC) season undefeated, but fell 6-3 after their match-ups against UW-Parkside, Bellarmine and USI. However, on Jan. 26, the Flyers redeemed their tough week, winning 96-83 against McKendree at Neil Carey Arena.
The Flyers were led by senior Miles Simelton and sophomore Delaney Blaylock who combined for 44 points and eight three-pointers against the Bearcats. Following behind Simelton and Blaylock was sophomore Frank Vukaj who finished with 14 points, five rebounds and two blocked shots.
After the win against McKendree, the Flyers improved to 7-3 in the GLVC and 12-8 overall.
Returning to Neil Carey Arena on Jan. 28, the Flyers scored over 90 points for the second game straight in their 94-73 win against UIS.
The duo of Simelton and Blaylock made great strides for the second game straight, scoring over 20 points again. The team's strong scoring game included three trifectas and five assists for Simelton, as well as three three-pointers for Blaylock. Following behind them was junior Cristen Wilson with 19 points that combined for 64 points from the trio.
Vukaj contributed with 10 points and a career-high six blocks, which is recorded to be the most blocks since 2009. Throughout the game, the Flyers forced 15 UIS turnovers and committed to a season-low of only six turnovers of their own.
With the win, the Flyers improve to 8-3 in the GLVC and 13-8 overall.
Along with the wins, the Flyers also improved in their shooting percentages.
In the match-up against Parkside, the Flyers were 44.6 percent from the field and 23.5 percent from long range. They were also 33.9 percent from the field and 13 percent from long range against USI.
The Flyers thus improved to 55.7 percent from the field and 60 percent from three-point range against McKendree. Flyers' statistics for the game against UIS included 52.2 percent from the field and 38.5 percent from three-point range.
The Flyers have seven games left of regular season before possibly receiving the opportunity to defend their 2016 Conference Championship title.
The next home match-up is set for Feb. 9 against Truman State in the Neil Carey Arena.