Men and Women: Different Stories for Lewis Tennis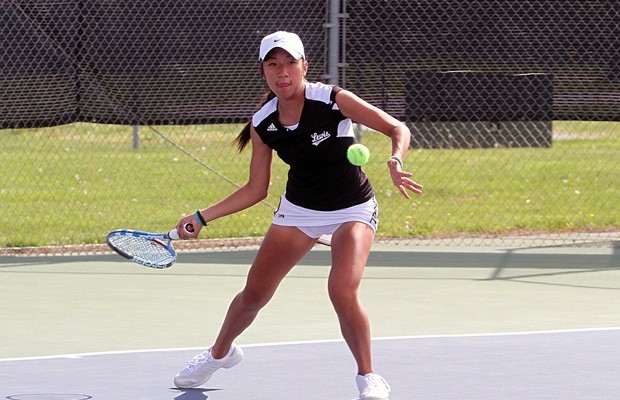 Megan Nguyen is hoping to build on her All-Conference season from the spring season. Photo provided by Steve Woltmann.
David Ridderhoff, Sports Editor
The two Lewis University tennis teams seem to be on completely different ends of the spectrum, as one of them is looking forward to what might be their most prosperous season in team history, while the other is scrambling to find a replacement for two of the greatest players to ever step foot on the Jack Oremus Tennis Complex.
The men are poised to have multiple singles and doubles competitors compete for regional, and maybe even sectional championships in the fall season. At the first tournament of the season, the Saint Louis Billiken Invite, the two Estonian seniors, Armand Levandi and Erik Aunapuu, both did their job, as Levandi won the first singles flight while Aunapuu took the championship at No. 2 singles. The two then combined to win the first doubles flight. Despite the success, head coach Bret Bridel wasn't totally pleased.  He said, "Even though we won three of the singles flights, it wasn't the best tennis that we could play."
Based on his play from the start of the season, Levandi could replicate his strong performance from last season, which saw Levandi win his regional and finish fourth in the entire nation in singles. Bridel believes that Levandi has the game to repeat as regional champion, but it won't be easy. "(Levandi) got through the regional pretty easily last year, but it's a very tough region," Bridel said. "There's a lot of good players, and to make it out you have to play your best tennis every match."
The women are a different story though, as they lost their two top players from a season ago, yet still return some very good young players. Most notably, junior Megan Nguyen returns, and hopes to grow from her All-Conference selection from a season ago. While she can do her best to replicate what the team is now missing on the court, the team is still looking for a lady to step up and be an emotional leader for the team. "We've been imploring the ladies to stand up," said Bridel. "We need someone to be a leader, and it's something we've been discussing internally (as coaches) since our first meeting in the fall."
Despite that, new additions to the team leave question marks that the team is hopeful will yield good results. Most notably, the varsity team is looking for contributions from a freshman, Maine West product Jojo Styczen.
Despite the differences in expectations and immediate results, both teams are looking forward to growing in the fall season before GLVC play opens in late March.