Measles Outbreak Keeps Will County On High Alert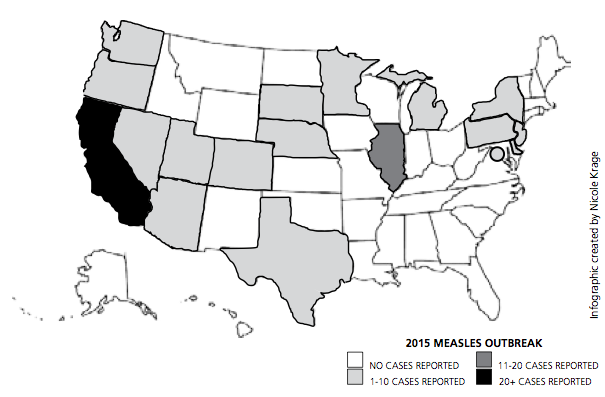 Infographic created by Nicole Krage. 
Jade Osowski, Health Editor
The Will County Health Department made an urgent news announcement concerning the recent outbreak of measles linked to Disneyland in California. Although there has not been a confirmed case of the disease announced in Will County as of Feb. 17, the health department is on high alert due to the amount of cases reported in surrounding areas and multiple states.
As of Feb. 13, the ongoing outbreak has affected at least 141 people, 113 of which are connected to the Anaheim Disney property, according to the Centers for Disease Control. The outbreak began in mid-December 2014 and has spread across 17 states and Washington D.C.
The Illinois Department of Public Health has confirmed 14 cases of measles in Illinois as of Feb. 17. The initial case was a Cook County resident who became ill in late January, and the 13 remaining cases are associated with a KinderCare Learning Center in Palatine. Illinois now has the second highest amount of reported cases next to California.
Symptoms of the measles include fever, cough, red eyes, runny nose and a rash that usually begins on the forehead. The highly contagious disease is spread through coughing and sneezing, and can linger in the air for a couple of hours. Those infected may be contagious for more than a week, including four days before symptoms even appear.
Typically, symptoms begin to show a week to 12 days after exposure, but can take up to three weeks before surfacing. Lewis alumnus Vic Reato, media services manager of the Will County Health Department, explained that for some the disease would just leave the individual sick and extremely uncomfortable for a few days; however, others may develop one of a few dangerous complications.
"Approximately one in 10 measles victims can develop middle ear infections that can often lead to permanent hearing loss," Reato said. "The other three major complications are pneumonia, meningitis and encephalitis. All of those complications can potentially be fatal."
Those who believe they have been exposed to the virus and have not received the measles vaccine should not go to the doctor's office or emergency room, but call their healthcare provider. This is encouraged in attempt to prevent ongoing exposure to others.
The measles vaccination is highly effective at preventing the infection, and is required for all Lewis students.
For children, the first dose is administered at 12 to 15 months of age and the second dose before entering school at four to six years of age. Anyone born during or after 1957 who has not had measles or been vaccinated is at risk and should receive at least one dose of the vaccine. Two doses are recommended for those at even higher risk, including college students.
In 2014, the United States experienced 23 measles outbreaks including one large outbreak of 383 cases, occurring primarily among unvaccinated Amish communities in Ohio, according to the Centers for Disease Control. Last year saw a total of 644 cases of measles in 27 different states, including at least 40 cases from the Disneyland outbreak in December.
Although the disease is expected to reach even higher levels this year, Will County hasn't had a confirmed case of measles in nearly a decade.
"The principal reason there hasn't been a confirmed Will County measles case since 2007 is that most residents are adequately protected," Reato said. "That is not the case in every community. In portions of California, Arizona and other western states, pockets of unimmunized people are out there."
Immunization services are available at the Will County Health Department. For more information, call (815) 740-8143. Learn more and keep up  with the  measles outbreak at www.cdc.gov.