Marine Corps issues statement about social media misconduct
Ashley McCann, Opinions Editor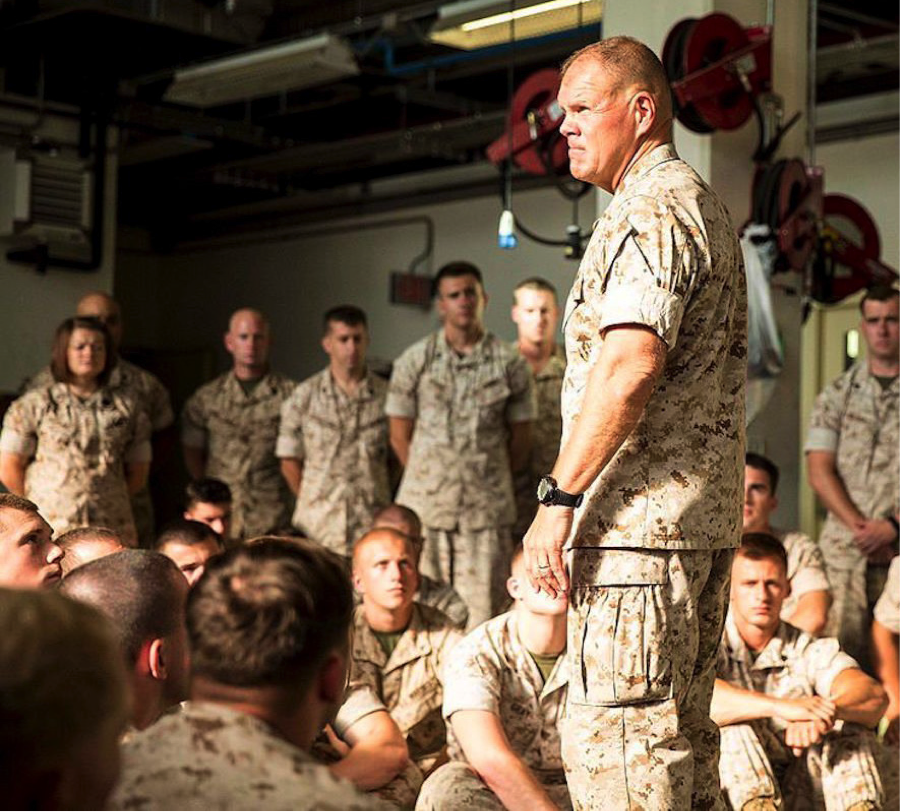 Photo courtesy of Marine Corps Corporal Shawn Lalosin.
Marine General Robert Neller, seen here addressing Marines, briefed Congress on the Facebook Scandal.
Hundreds of Marines are currently entangled in a social media scandal for sharing nude photographs online. The photos were shared in a Facebook group, and although the U.S. Marine Corps released an update to its online guidelines to address those disrespectful actions, new groups are springing up on Facebook that continue to speak out against the update.
In response to the scandal, the update advises Marines to "think twice before engaging in questionable online activities, and must avoid actions online that threaten the morale, operational readiness and security, or public standing of their units or that compromise our core values."
The U.S. Marine Corps core values are honor, courage and commitment, and posting nude photographs of other Marines online is anything but honorable, courageous or a display of commitment to the U.S. Marine Corps. Posting nude photographs online is disrespectful, cowardly, malicious and selfish.
The update further identifies and advises against inappropriate commentary that is, "defamatory, threatening, harassing, or which discriminates based on a person's race, color, sex, gender, age, religion, national origin, sexual orientation or other protected criteria." The document also states that the actions advised against in this text are punishable under the Uniformed Code of Military Justice. However, despite the identification of possible punishment, Marines continue to turn to Facebook to vent their frustrations and post ignorant commentary that defames the U.S. Marine Corps and those who are associated with the organization.
One of the original Facebook groups, Just the Tip of the Spear (JTTOTS,) was disbanded in light of the scandal; however, a group named JTTOTS II has emerged. On Mar. 14, the same day the update was released,  a member of the group posted, "Dear wooks, want to be taken seriously? Then stop being such a f***ing burden on everyone around you. All any of you ever do is bring drama and reduced morale wherever you go." A "wook" is a derogatory term for a female Marine, and almost all of the comments left on this post joke about sending nude photographs or are insulting to women. Some of the comments left on this post are from women.
While I'm guessing those who continue to post inappropriate and insubordinate comments on social media are no longer in the U.S. Marine Corps, I am sure that several of them are still enlisted. Posting nude photographs of anyone online without their knowledge and permission is unacceptable. The military is supposed to be a brother and sisterhood of individuals who are committed to fighting for safety and freedom. Marines are supposed to be able to rely on one another, literally putting their lives in each other's hands.
I don't understand how sharing nude photos and violating each other's privacy is supposed to encourage mission accomplishment, comradery or trust. The actions of those who participate in these activities are hindering progress and are tarnishing the U.S. Marine Corps' reputation.