Lewis Tennis Hits Rough Patch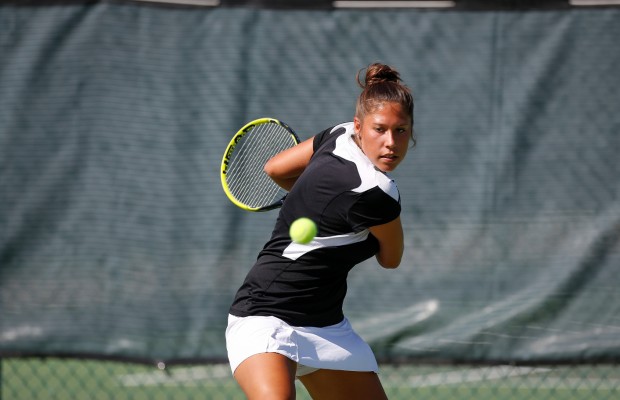 Photo provided by Steve Woltmann: Senior Kendra Mills helped Lewis upset No. 14 Fresno Pacific by winning the deciding match of the meet, winning the first two sets 6-1 and 6-0.
David Ridderhoff, Assistant News Editor
Lewis University's tennis teams recently took two tough trips, one to Ohio and another to California.
The women won both matches in Ohio, yet only won one of three in California. The men were only able to get one win in Ohio, while losing two, and got swept in California.
"Instead of excuses, we are focused on fighting for every point in every match that we compete," head coach Brett Bridel said. "Not only will that make us better tennis players, but will build character as well. This is an opportunity for players to step up and show what they are made of."
On the women's side, the road trip began with a win over Walsh. After that, the women dominated Malone, scoring a 9-0 victory while losing only five games throughout the event's matches. Unfortunately, the team was unable to continue their victories once they made the transition to California.
Azusa Pacific defeated the team 6-3, before Lewis was able to defeat Fresno Pacific.  The last stop in California was a loss to Point Loma Nazarene. Despite the losing record, Bridel isn't worried.
"We competed against the No. 14, 16 and 31 ranked teams in the nation in California," Bridel said. "Not only was the level of competition better, but we also had the challenge of playing outdoors for the first time since October."
The men, unfortunately, were disappointed by their performance on both trips. While they were also able to defeat Malone, they dropped two matches to Walsh and Ohio Dominican.  They followed up that losing performance by dropping all three matches to the same opponents as the women. It was definitely disappointing for the team, as their record went from 2-0 to 2-5.
Both sides only have two matches until conference play begins.
"The GLVC is a tough conference that gets better every year," Bridel said. "Our expectation is to perform and execute at an extremely high level in competition because of the preparation and sacrifices we make on a daily basis to be college athletes."
The teams will start GLVC play with a three-game home stand against Saint Joseph's, McKendree and Southern Indiana. While the competition will be as tough as always, Bridel expects good things.
"We have out-performed our resources in the past and expect to continue to do so," Bridel said.