Lewis Seniors: Challenge Accepted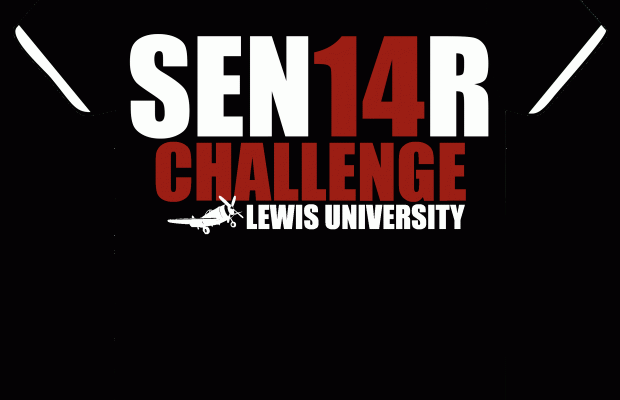 Lauren Grady, Tempo Editor
Whether you're spending money on a cute new dress, a nice meal out or a ticket for you and a friend to a Sox game, $20.14 can be spent an endless amount of ways.
But what better way to spend it than by giving it back to a place you have spent the last four (or however many) years of your life?
Sure, everyone has had their ups and downs here, but Lewis University continues to prove to be a place that is committed to its students and their well-being.
Every year the graduating seniors have the opportunity to participate in the "Senior Challenge," which consists of making a donation that corresponds to your graduation year. For this year's seniors, the challenge is $20.14.
Why is it so important to donate to the senior challenge? Have students not given enough money, through tuition fees and such, throughout their time spent at the university?
"Well most of Lewis' students are here because of scholarships," said senior Kyle Hayes. "Most of the scholarship money we receive comes from campaigns such as the Senior Challenge. So why not give back to a cause that has given to you? It's sort of like returning the favor."
Students are encouraged to "return the favor" to an organization of their choice.
"If there's something on campus you were heavily involved in, you can designate your $20.14 to go directly to that specific organization; whether it be a sports team, club, scholarship, etc.," said Hayes.
Along with particular groups, students also have the option of donating in honor of a loved one, or someone else of their choosing.
This year, the seniors have been especially involved and generous, and they have already surpassed the amount donated in years past. Whether they have donated the full amount requested of $20.14, or whatever they could spare, the university is grateful for their generosity.
University President Brother James Gaffney is quite impressed with the munificence of this year's class.
"Each year, the amount donated is a larger sum. Thus far this year, the 2014 senior gift amounts to nearly $10,000, surpassing last year's total at this time of $8,674.22," said Gaffney.
Brother James is well-aware of the financial commitment required to attend Lewis University and greatly appreciates gifts of whatever size.
"Expressing their gratitude through a senior gift of whatever size is a wonderful way of recognizing the meaningfulness of their Lewis education, as well as to hopefully beginning a life-long habit of annually contributing to the Mission of the University and especially in support of fine students with financial need," said Gaffney.
Brother James enjoys hosting a reception for all the seniors who donate to the senior challenge. It is his way of thanking the student leaders who have promoted to the cause, as well as expressing gratefulness to each donor, welcoming them as soon-to-be alumni. Certain alumni will also be present to give recognition to the students.
With so much emphasis on giving back, students are apt to reflect on all of their memorable experiences they had at Lewis over the years and truly realize all of the lifelong skills, talents, and friends they had been gifted with that will continue to bless them for years to come.
Brother James continues to emphasize that all those who graduate continue to be a part of the Lewis family, and his advice for students is reflective of that.
"Continue to be generous, to stay associated with the University, to show pride and loyalty, and to let us know anyway that we can assist them in future years," said Gaffney.