Levandi Reaches Small College Championships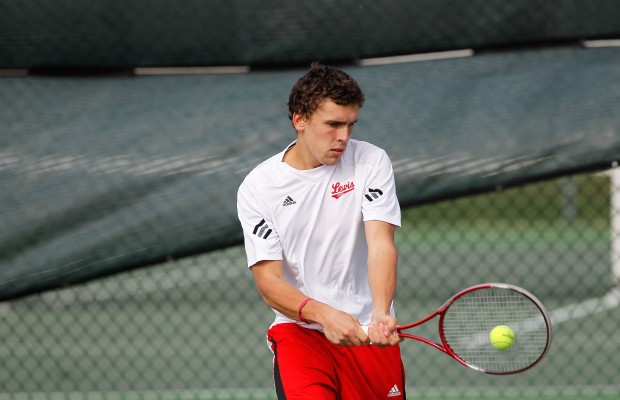 Photo provided by Steve Woltmann
David Ridderhoff, Contributor
Lewis University's Armand Levandi defeated Ferris State's Laurent Galarneau on Sept. 22, a win that clinched the Midwest Regional Singles Championship and a spot at the Small College Championships for him.
"My expectation for the Small College Championships is to keep playing as I have done so far," Levandi said. "I just need to believe in myself, and I believe I could do quite well in that tournament."
He was hardly challenged through the regional tournament, not losing a set and only losing four or more games in a set three times during his six matches. Fellow junior Erik Aunapuu won one match at the regional tournament before bowing out, while the only other competitor for the squad, freshman Mate Srdanovic, was unable to come up with a victory.
Levandi will now travel to Fort Myers, Fla. for the National Small College Championships, which will take place on the weekend of Oct. 10. Levandi is excited to go.
"If I will win that tournament it would most likely be a huge confidence boost to me, and also I will be able to play with the best players in U.S. College tennis," Levandi said.
Levandi is the first male Flyer to reach this stage of competition since Uno Lapimaa competed in the tournament in Oct. 2011.
To find out how Levandi performs at the Championship, go to lewisflyers.com, where updates will occur throughout the tournament.