iPhone's Big Changes Bring Mixed Feelings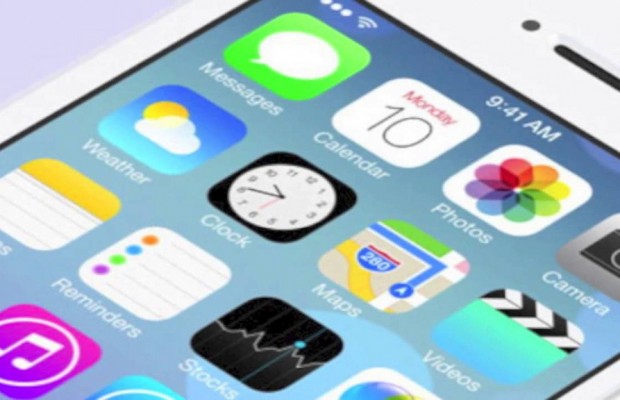 Apple's iOS 7 features updated icons on an all-new design.
Photo courtesy of Flickr user: Zennie Abraham.
Nicole Krage, Advertising Manager
About three weeks ago, Apple gave iPhone users the opportunity to essentially get a brand new phone – without actually having to buy one. On Sept. 18, the iOS7 update was released, and the changes were all some students could talk about.
The new software changed many aspects of both the appearance and functionality of the iPhone. It features a sleeker, "flatter" design with brand new icons, as well as many significant additions and changes including an updated notification center, a new control center accessed by swiping up on the home screen, a "multitasking" view within apps, modifications to Safari, new formats and filters in the camera and improvements to Siri.
Though the transition from iOS 6 to iOS 7 is drastic, it "makes the things you do every day even easier, faster, and more enjoyable," according to Apple's website. "And while many of the apps look different, the way you do things feels perfectly familiar."
Among Lewis University students, the experience of the update is a hit or miss. For some, the familiarity Apple was aiming for was lost. Junior graphic design major Lizzie Apostolos initially looked forward to the update, but was disappointed when the day finally came.
"It makes my phone run slower," she said. "My keyboard doesn't work as well, my battery dies faster and some of my apps crash on me more often."
Other students are enjoying the update and are expressing what Apple most likely hoped they would – appreciation for the transformation.
"It's definitely different, but I love it," sophomore sports management major Tori Hanford said. "iPhones have been the same way for so long, so it's a nice change looking at my phone now."
Hanford also points out the resemblance iOS 7 has with other phones on the market, adding, "I can tell they're trying to compete with Microsoft and Android, but I still think it's a cool change."
This competition is what many students are unhappy about. A common reason for negative feedback on the update is that it looks too much like other phones and not enough like an iPhone.
Benjamin Eveloff, a professor at Lewis who teaches social media courses, weighed in on these similarities.
"You can't do anything too crazy, because people won't understand it," Eveloff said. "But if you know something's really popular, and it's a big design trend, like the flatter design is, it makes sense to do it that way."
Apple seems to have paired various popular aspects of existing designs with unique features of its own. Whether students are grateful for the update or regret ever installing it, chances are there is still at least one little thing that they do like.
For you iPhone users who are eager to check out all of the new elements of iOS 7 – or for those who are still disappointed and are looking for a reason to like it – here are a few "hidden" features that you might have missed over the past few weeks:
Within a conversation, if you swipe your text messages to the left, time stamps for each will appear on the right side.
You can now correct Siri on her (or his!) pronunciation of people's names. When pronounced incorrectly, simply say, "That's not how you pronounce the name," and tell Siri how it's done.
Siri can also change some of your settings on your phone, such as increasing or decreasing the brightness.
Apps can be automatically updated. You no longer have to be bothered to do it manually.
That pesky newsstand can finally be put into a folder!
By double-clicking the home button, you'll see the "multitasking" view of any apps you have open, which you can simply swipe up to close. This part is no secret, but did you know that you can swipe two or three at a time to close them faster?
It's now possible in your settings to block people from calling or messaging you.
Whether you love it or hate it, the talk about iOS 7 was unavoidable. The anticipation was big, and the changes were bigger, but it's likely that Apple will eventually find a way to top itself once again – just give them another year or two.