Hannah Hart shares a side of herself not revealed on the internet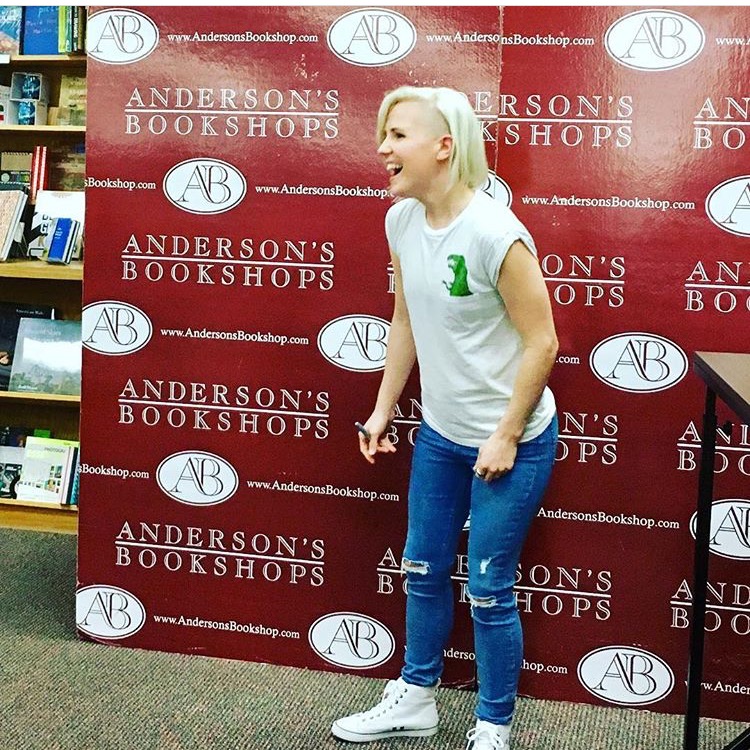 Photo courtesy of Instagram user andersonbookshop
Hannah Hart celebrated the release of her new book "Buffering: Unshared Tales of a Life Fullly Loaded" with a book tour stop at Anderson Bookshop in Naperville on Oct. 22.
Kate O'Hagan, Tempo Editor
The phrase "never judge a book by its cover" holds true when it comes to people like YouTube star Hannah Hart.
While Hart is best known for her punny, light-hearted video series on YouTube and parody cook book titled "My Drunk Kitchen," the 30-year-old went in a new direction with "Buffering: Unshared Tales of a Life Fully Loaded."
Hart recounts what it was like growing up with a mother who suffered from schizophrenia, becoming emancipated in her teen years and the struggle of coming out as a lesbian in college, all while holding on to her Jehovah's Witness faith.
In an interview with Entertainment Weekly, Hart talks about how she felt a responsibility to be more open with readers, sharing her story even if it makes her feel vulnerable.
"I was open about sharing experiences, in a way similar to reporting the news, but I didn't want to share how I was processing them," said Hart. "The reason the book is called 'Buffering' is because it's about the time that I spent with a boundary up so I could internally process the things that I have to process in my life, before sharing the journey of how."
Even though Hart's most popular content online is comedy related, "Buffering" is not the first time she has shown her serious, thought provoking side.
In almost every "My Drunk Kitchen" video, there is a theme that resonates with you to ensure you are living your best life. Hart also has a second YouTube channel, yourharto, where she talks more in depth about coming to terms with her sexuality in a series called "Coming Out."
Upon announcement of the release of her second book, "Buffering" in March, fans of the YouTube star were on edge of their seats waiting for the book to finally arrive on Oct. 18.
After the long wait, Hart definitely did not disappoint. She makes every chapter feel as if you are her best friend experiencing everything along with her.
Both comedic and heart wrenching, "Buffering: Unshared Tales of a Life Fully Loaded" is must read.