Grumpy Cat Brings Christmas Joy Along with Her Misery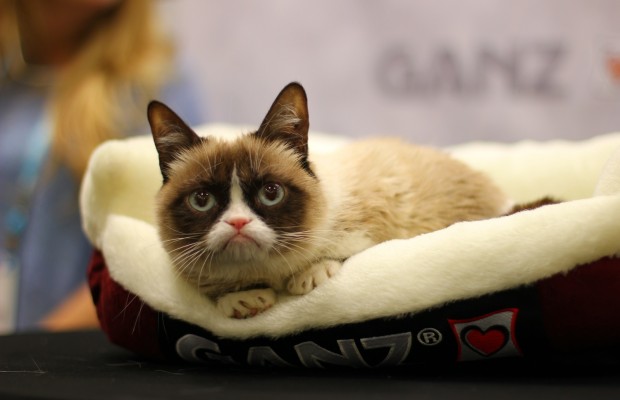 Tardar Sauce became an Internet sensation when a photo of her was posted to Reddit in 2012 when she was only a few months old.
Roslyn Summerville, Tempo Editor
Since 2012, memes of Tardar Sauce have been flooding the Internet. Now, she stars in her own Lifetime movie to kick off the Christmas season.
Who's Tardar Sauce? You may know her by her more common alias: "Grumpy Cat."
That's right, Grumpy Cat will be gracing TV sets everywhere in order to bring joy (or she would rather it be "misery") to everyone this Christmas season.
"I love Grumpy Cat. She's so cute and you can't help but want to give her a hug," public history major Mary Moran said. "I'm not a Christmas person, but I am definitely going to be watching this movie."
There have been a few scenes released for promoting the movie, "Grumpy Cat's Worst Christmas Ever." One has Grumpy Cat driving a car, another is her firing a paintball gun at people and then she has a fantasy about eating tuna until she passes out.
Aubrey Plaza, producer of "Parks & Recreation," also gives voice to the iconic kitty. Lifetime put out a video called "How Aubrey Plaza Became Grumpy Cat," which shows how Plaza takes the time to associate herself with the actions of Grumpy Cat.
"I think [Plaza] is really funny. I loved her in 'Legend of Korra' and 'Parks & Recreation.' She has an interesting sense of humor," English major Caitlin Connely said. "Her voice absolutely goes perfectly with grumpy cat. Especially after seeing her in TV shows; I think it really fits the persona of grumpy cat."
The movie is about how Grumpy Cat is living in a mall pet store. She becomes increasingly ornery after customer after customer passes over her to buy the other pets. Because of this, she accumulated a bitter view on the world. However, a 12-year-old girl named Chyrstal visits the shop and falls in love with Grumpy Cat; the two chat when they meet, which surprises Grumpy Cat that Chyrstal is able to understand her feline language.
Grumpy Cat becomes the heroine of the story when she puts a stop to some kidnappers from stealing a rare and expensive dog (even though she can't stand the thing) and saves Chyrstal after the mall closes on Christmas Eve.
With all of this action, will Grumpy Cat be able to finally find the joy in the world? Or will she remain the miserly Grinch that everyone has branded her?
You can find out on Nov. 29 at 7 p.m. on the Lifetime channel.