Graduation Tickets: Stop Complaining and Start Thinking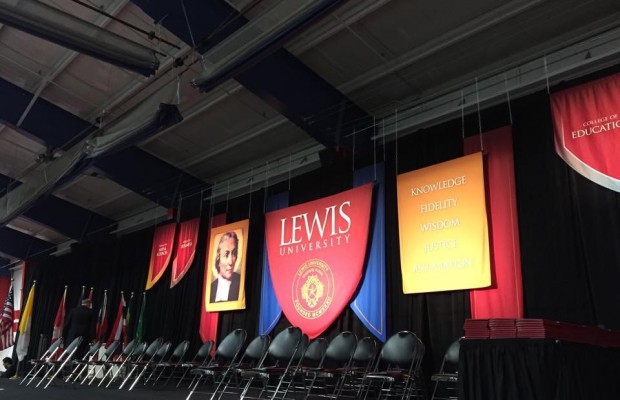 Photo courtesy of Natalie Budig.
Staff Editorial
Spring is upon us, and for seniors, this means graduation is that much closer. In the chaos of job hunting and taking our last finals, a new issue has risen.
This year each senior undergraduate only gets three graduation ceremony tickets, and people are freaking out. Some have to choose which siblings can attend the ceremony, while others may have to choose between grandparents.
Yes, students with larger families seem to be getting the short end of the stick, but with fire codes, did we really think everyone was going to get the amount of tickets they need?  And let's face it; it's a long ceremony that your siblings will probably be texting through anyway. It's not like they can't come to campus, and take pictures before and after. Not having a ticket does not mean LUPD will ban them from campus for the day.
Lewis understands that limited space means that some family members will be unable witness this pivotal moment, so there is a reception before the ceremony that anyone can attend.
The reception will be held in the Neil Carey Arena from 9:30 a.m. until 11 a.m. before the ceremony begins at 11:30 a.m. At the very least, the graduates and their families get a free breakfast.
However; if you really need that extra ticket there are ways to get it, but you have start looking now rather than later. First, plenty of people have small families and might only need one or two tickets. So, ask around. See if people are willing to sell them, or even give them away.
In addition, Lewis participates in Collegiate Learning Assessment Testing, and is asking 100 seniors to volunteer to take the test. Students who complete the test are entered in a raffle to win five graduation packages, which includes four extra tickets and the graduation fee waived.
Also, seniors can make a gift of $20.15 through the Senior Challenge Committee and automatically be included in a drawing for two VIP tickets and a front row parking pass.
While having only three tickets is a bummer, it isn't the end of the world, and if that extra ticket is really important to you, you will find a way to get it. But, complaining on social media, to administration or to your friends is not going to make that fourth ticket appear.
People need to stop acting like they aren't graduating from college, and start  acting like adults. We are about to graduate with college degrees; I think we can use our critical thinking  skills to find extra tickets.