Former student charged for JPII computer theft, 7 computers recovered from pawn shop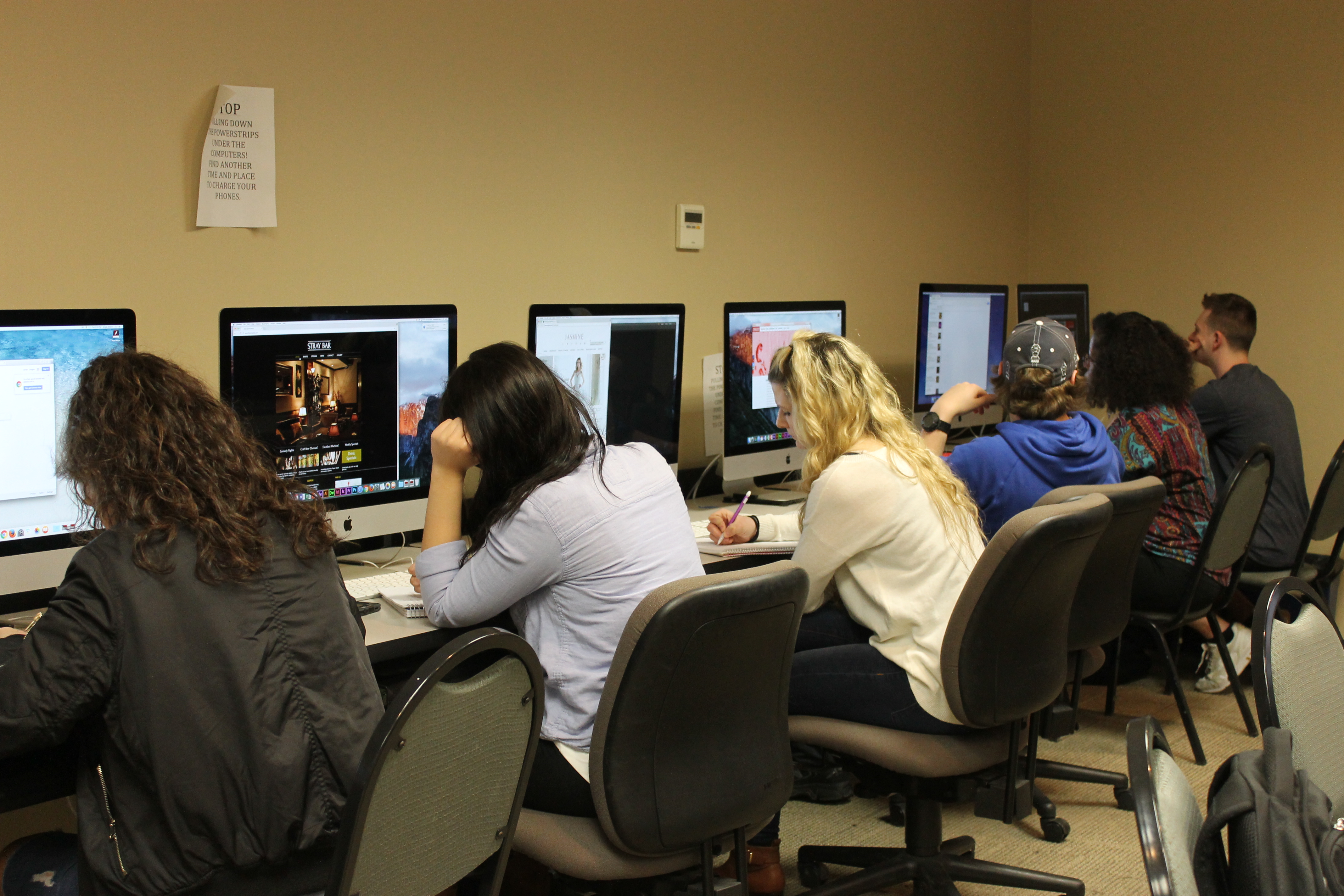 Photo by David Olsen
Students work on the replacement MACs in JPII.
Bree Scott, Co-News Editor
According to LUPD Deputy Chief Mike Zegadlo, Elijah K. Jones, 20, former student of Lewis University, was arrested upon his confession of stealing 11 Mac computers from John Paul II Hall. Investigating the case required a combination of video surveillance analysis, computer intelligence gathering, multiple interviews of witnesses and suspects and various trips outside LUPD's jurisdiction into Cook County and several pawn shops.
LUPD has an interagency agreement with the Romeoville Police Department, which allows both police departments to work together should there be a criminal investigation on campus that is going to require evidence collection, interviews, investigative follow ups and any type of specialized equipment or technology. It was decided that LUPD would remain the lead agency on the case and that RPD would provide support.
"The big break in the case came by way of some computer technology that RPD has that allowed us to find some of the computers at a pawn shop," Zegadlo said. "They were able to do a records check … we were able to locate some of the computers at a pawn shop in Cook County."
LUPD Officer Margie Lill was the primary investigator on the case. Deputy Chief Zegadlo expressed nothing but praise for her relentless determination, saying that she ran down leads, talked to witnesses and suspects and drove out to the pawn shops to talk to the managers and collect video surveillance.
"She did an outstanding job handling [the case] while she was doing all the required responsibilities as a patrol officer. Between going to calls and unlocking doors and handling everything else in her day, she was running this investigation in the background," Zegadlo said.
Seven out of the 11 computers were recovered. Jones was charged with theft and criminal trespass to land. He will be arraigned in Will County Court March 1. During the process of the investigation, Officer Lill was also able to clear a previously unresolved case of a stolen projector from De La Salle, which was sold to a private party on Craigslist.
"Determination to resolve problems and solve cases is something that comes with the badge," Officer Lill said. "When we have a victim of a crime, the university being the victim, we do everything we can to make it right for that victim, as well as getting property back and holding the offender accountable for his actions."
The stolen Macs were replaced with new ones a few weeks into the spring semester, and security measures have been implemented to keep the computers secured. However, JPII was only one of many locations on campus where expensive equipment is not protected by cameras or other security measures.
"This would be a good opportunity to look at [the case] as a campus and say how can we better secure these locations," said Zegadlo. "And not just to protect property, also to protect people. We have a 400-acre campus, we've got 40-some odd buildings, there's a lot of ground to cover and [LUPD] at any given time has maybe two, maybe three people walking around checking things. So you need to rely on technology to do a better job of securing the campus and I think this is a good opportunity to be reminded of that."