Flyers' Softball Falling Behind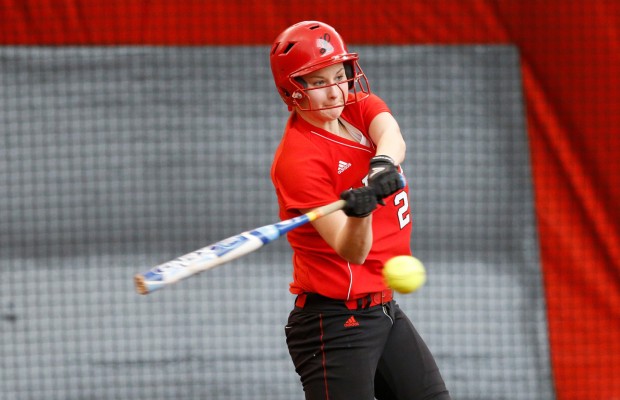 Photo provided by Steve Woltmann: Carly Jaworski, freshman, leads the team in RBIs with 16, while batting .287 and getting on base at a .340 clip.
Laura Fox, Contributor
As the weather outside begins to finally warm up, Lewis University softball continues to struggle with the 2014 season, as they have a 10-19 overall record while going 4-12 in GLVC play as of April 11.
With the team getting off to a rough start, things started to look up on March 23 when the Flyers toppled McKendree University in their doubleheader, 7-5 and 8-0.
But one strong Sunday wasn't enough to get the team out of their rough patch, head coach George DiMatteo agrees.
"We thought we were out of the woods, but we fell right back into it," DiMatteo explained.
Lewis went on to face Indianapolis the next weekend, losing both games 12-0 and 6-0. They also played two games against St. Joseph's, which led to more disappointing scores of 7-1 and 8-0.
"The weather hasn't helped at all, but that's no excuse," DiMatteo said. "We have not played anywhere near our capabilities. I think everyone is disappointed with the season."
Could being on the road for many games play a part in these results?
"My best teams have played better on the road because they're distracted at home with boyfriends, friends, parents and travel coaches," DiMatteo said. "We play OK at home, but much better on the road. But maybe this is the kind of team that needs to play at home."
The Flyers went on to face Southern Indiana on April 5 at home, losing the first game 9-3, but pulling through with a win in the second game, 4-3.
On April 6, Bellarmine, the top team in the league right now, visited Lewis and, unfortunately, won both games, 3-2 and 11-3.
At the beginning of that weekend, the team's goal was to win three out of the four games played, but they only ended up winning one. With an overall goal of wanting to win 14 games out of the remaining 20 before that weekend, the Flyers will only have 16 more chances to prove themselves.
Coach DiMatteo explained that after the results of that weekend, it could be time for "full blown rebuilding."
"We need to play for the future and move on," DiMatteo said.
What is the coaching staff looking for from their team in the remainder of the season?
"I would love to see the players understand that the season is almost over," DiMatteo said. "We need to put everything together as a team and work together. I hope the players start to feel urgency and pull through at the end of the season."
With a not-so-bright record this season, Lewis softball wants to turn things around very quickly. Not only are the statistics and records an upset, but a lot more is riding on the team at this point in the season.
"We have never at Lewis missed a Great Lakes Valley tournament, and we are dangerously close to missing this year for the first time," DiMatteo said. "If we can't accomplish what we need to, then our season will end before May 1, and that will be a first for us."
With only a handful of games remaining in the regular season, hopefully the girls will bring it together and make their final stretch successful enough to bring them to the GLVC tournament.
"We need to turn it around and turn it around real quick if we want to make the playoffs," DiMatteo said.
And hopefully we'll see this turn around in the coming weekends.