Flyer Baseball Continues To Exchange Blows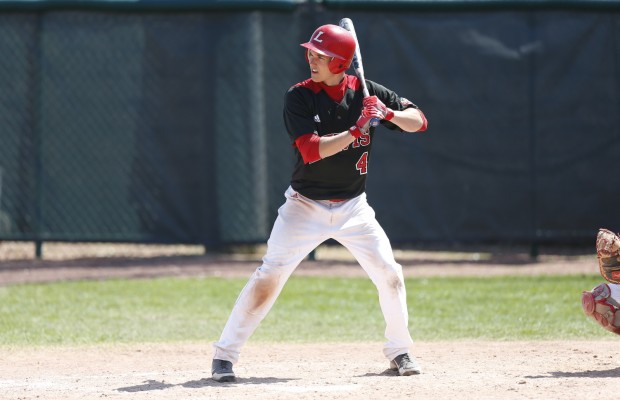 Photo provided by Steve Woltmann: Outfielder Jake Murray, senior, is batting .322 on the season with 17 RBIs and a team-high 15 doubles. 
Eric Donahue, Contributor
The Lewis University baseball team's regular season is quickly coming to an end, and the team has been, if anything, consistent. They have gone 5-5 in the span beginning April 8 and ending April 22, maintaining an above .500 record of 20-19.
The Flyers are currently sitting comfortably in the fourth place slot of the GLVC East, holding a conference record of 12-13. Head coach Timothy McDonough is pleased with his team's performance thus far.
"When you're playing in the GLVC and the amount of region games we have played in against really good opponents to be where we are at right now, I am satisfied," McDonough said.
The Flyers looked to be putting together a nice string of wins and looking to jump the conference standings a few notches. They started the month going 3-1 in the series versus Illinois Springfield, but were then swept by the conference-leading Eagles of Southern Indiana.
Despite being swept, the team did not make it easy for Southern Indiana— fighting until the bitter end of each game, with some of their best pitching performances all season. Their biggest deficit came in Game 2 when they lost 5-1. The other three games were lost by only one or two runs.
All games that the Flyers played in this span were tight ones, except for the blowout win against Illinois Springfield.
"The league is kind of that way this year, I think talent-wise and ability- wise, we're pretty much bunched together," McDonough said.
Leading the way again for the Flyers are senior outfielders Jake Murray and Ben Albano.
"[These] guys have been a model of consistency, and it is good to see those guys have solid senior years," McDonough said.
The Flyers are also seeing some offensive contributions from some younger blood. Junior infielder Mike Barajas has climbed his way to the second highest batting average on the team at a .349 clip. Also sophomore infielder/pitcher Joel Rotkvich improved his batting average to .330. In addition to Barajas and Rotkvich, sophomore outfielder Austin Mastela has made a name for himself batting .318, also providing power with three home runs and sitting second among the team with 23 RBIs.
With all of this offensive production showing up for the Flyers, it is only a matter of time until they start piecing together wins.
"We have had some guys recently start to step up and play a little better and that will certainly bode well for the whole lineup for the remainder of the year," McDonough said.
The Flyers only have a few series left before the GLVC conference tournament, and with first and second place essentially out of reach, they will look to jockey with Illinois Springfield for that third place slot in the conference.
The next and final series being hosted by the Flyers at Brennan Field will be held May 3 at noon against Bellarmine.