Fitness Center Introduces Brand New Equipment, Classes for Spring Semester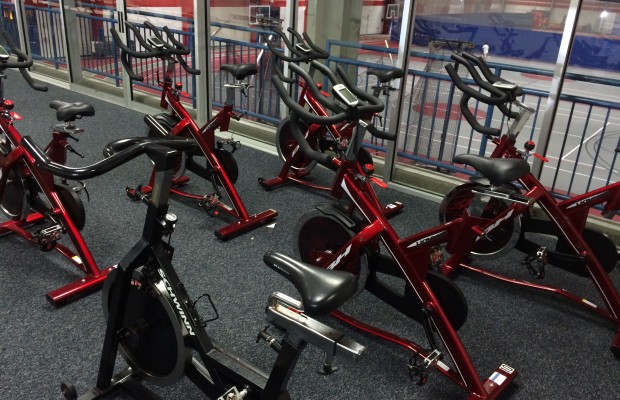 With ever-changing trends in active living, the fitness center stays up-to-date with new classes and equipment to encourage students to live a healthy lifestyle.
Jade Osowski, Health Editor
The Lewis University Student Recreation and Fitness Center rang in the new year with some new perks for students, including additional equipment and new group fitness classes.
The fitness center now features new treadmills, ellipticals and spin bikes. Jill Siegfried, director of student recreation, explained that the department uses an equipment replacement plan to identify the age of each equipment piece and how many years each should be effective.
"When we were given some money for new equipment in the fall, we needed to replace some spin bikes, as well as some ellipticals and treadmills that were becoming expensive to own," Siegfried said. "We felt fortunate to have been given the resources to make some changes and do some updating in our fitness center equipment."
The group fitness classes now include HIIT (High Intensity Interval Training), Kettle Bell and Circuit Training, Upper Body Blast and Lower Body Blast.
"We like to align ourselves with the trends in the industry, so we offer comparable classes to what people would pay good money for at clubs and facilities on the outside," Siegfried explained.
Offered at 4:15 p.m. on Mondays, the HIIT class workouts involve bouts of high intensity effort followed by varied recovery times, which helps burn more calories than traditional workouts. Although this class can be challenging, people of all fitness levels are encouraged to try it out, as the class can be modified when necessary.
Combining strength and cardio, Kettle Bell and Circuit Training is a calorie burning and muscle toning class. No prior kettlebell experience or training is required as this class is suitable for all fitness levels. Kettle Bell and Circuit Training is offered at 4:15 p.m. on Wednesdays.
Siegfried expressed that HIIT and Kettle Bell and Circuit Training are very effective group exercise classes, and are perfect for those who have limited exercise time, as these two classes in particular are very efficient.
Upper Body Blast is 30 minutes of upper body toning exercises, using a variety of fitness material and body weight. Similarly, Lower Body Blast is 30 minutes of lower body toning exercises that also use a variety of fitness material and body weight. Both classes welcome all fitness levels. Upper Body Blast is available at 3 p.m. on Tuesday and Thursday, and Lower Body Blast is available at 3 p.m. on Monday and Wednesday.
Among the new classes, Water Aerobics, Yoga, Ab Lab, Step 'N' Tone, Ripped, Spinning, Zumba, Pilates and PiYo are still being offered throughout the week. These new additions in the Recreation and Fitness Center should help those who made health related New Year's resolutions keep motived to stick to their goals.