Fall Peace Teach-In Focuses on Identifying Differences in Cultures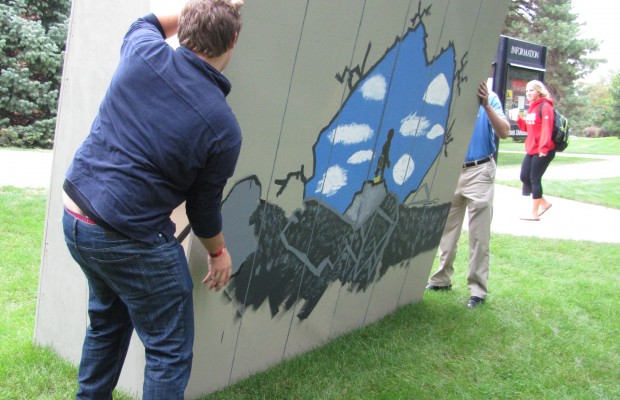 Students construct symbolic wall outside the Arts and Science building. Photo from Anthony Kurt.
Theresa Marten, Religion Editor
Shane Gustafson, Contributor
Lewis University's Peace Education Committee hosted a series of events on campus last week, focused on understanding differences in various cultures.
The two-day teach-in series consisted of five lectures, each aimed at helping students identify and deal with cultural differences, to create peace in the world.
"There are many walls in our human communities, both physical and metaphorical, and if we are to be builders of peace, we need to work toward dismantling those walls and growing just and compassionate communities," said Dr. Christine Billups, theology professor and member of the Peace Education Committee.
One of the week's popular lectures called "Walls that Divide Us" taught students about the differences in higher education. Lewis students had the chance to talk with students at Bethlehem University via Skype.
Bethlehem University is a Catholic Christian institution founded in 1973 in the Lasallian tradition, open to students of all faith traditions. Bethlehem University, the first university established in the West Bank, and can trace its roots to 1893 when the De La Salle Christian Brothers opened schools in the Middle East. The Skype session allowed for students to hear what it is like to live under occupation as well as daily life in Palestine. Students were able to ask questions about the current situation unfolding near the area.
"It was extremely humbling to Skype with Palestinian students at Bethlehem University and talk to them about their life. It was an amazing experience," said sophomore Taylor Cochran.
Another lecture was  "A Tale of Two Walls – Palestine/Israel and Mexico/U.S." presented by Dr. Frank Rose, professor of finance, Iyad Rock, Bethlehem University alumnus, and Jennifer Buntin, assistant professor of sociology. They examined walls that have been erected in two diverse parts of the world, Israel/Palestine and U.S./Mexico.
Inspired by the walls, the movie "The Other Son" was shown by the CRS Ambassadors to discuss life in Israel/Palestine. The movie is a tale of two college students- one Palestinian and one Israeli, who were switched at birth. In response to the wall between the United States and Mexico is the fourth lecture, "Bearing Witness to Lives on the Border." In this presentation, Cecilia Arias, a student in political science and sociology, and Dr. Tennille Allen, chair of the sociology department, shared insight into the  finding out whether one will be permitted to stay in the United States, and lives physically on the border between Mexico and the United States. The lecture finished with suggestions for how the Lewis University community can work to help be a part of the solution for a more humane and just immigration system
Lewis students were then able to physically participate in building two walls.  Michael Harris, senior Print Journalism major, helped construct the walls.
"We painted walls to resemble the West Bank walls dividing Israel and Palestine" said Harris. "The next day the walls were taken down to be a symbol of how we have to take our metaphorical walls down they separate us from others. The walls also resembled the Mexican- United States border. We must be strong and fight together to break down these walls, we must be aware of what happens to those around us."
As students drove onto campus or walked near the Arts and Science building, they were reminded of the reality many people are living right now. On Friday, Sept. 12 Billups and Dr. James Burke, associate professor of theology, held a symbolic nonviolent deconstruction of the wall created by students on the Campus Green. This ceremony echoed the tearing down of the Berlin Wall in November 1989.
This year's lecture series, called "Responding to Violent Times," has a major focus on cultural misunderstanding, leading to violence. Throughout the past ten years, the Peace Education Committee has focused on other topics, such as restorative justice and healthcare. The Peace Education Committee will host another series of lectures in October, which will focus on the views of rape in the American culture.
Through the wide range of topics the Peace Education Committee brings to light, the consistent call for peace in this world does not waver no matter what the injustice may be.