Dynamic Changes in the Den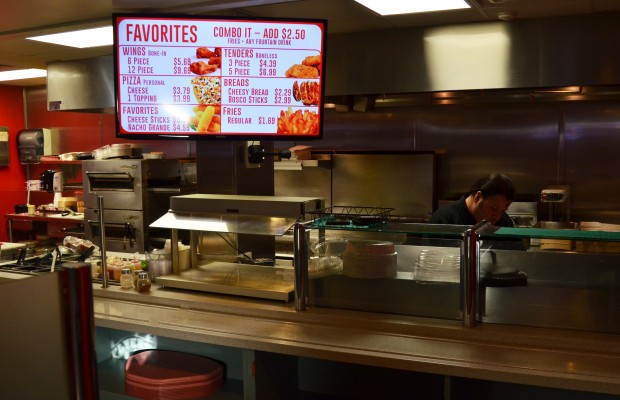 Photo by Anthony Kurt: Among the new changes to the Flyer's den, students will now see the menu displayed clearly on TV screens.    
Lauren Grady, Tempo Editor
Coming back to good ol' Lewis after break is a nice change of pace for everyone. New classes and new teachers keep students on their toes, and this semester students were pleasantly surprised with many new changes in one of the favorite campus hangouts, the Den.
It seems as though Lewis is trying to bring back an atmosphere similar to the "bar- like" ambiance that it had years ago.
"When the Flyer's Den was a bar, there were various positives and negatives that went along with it. It served as a nice place for camaraderie and meeting new people and also cut out the dangers of students drinking and driving, because they could just walk back to their dorms afterwards," said Lewis alumnus Ed Tennant, class of '88.
"There was live music, DJ's, and it was generally a fun place to hangout. However, the fact that there is a relatively small amount of resident population of legal drinking age, the easily accessible alcohol on campus may have encouraged underage drinking," said Tennant.
With new appetizers and chicken wings added to the menu, Sodexo plans on having new and improved options ready just in time for the Super Bowl.
The many improvements include new furniture throughout the space and many new, flat screen TVs decorating the main eating area, resembling a sports bar. The ever popular, worn-in couch in the game room has been replaced and new family-style wooden tables have been added as well.
Some game machines have been moved and replaced, but the ever popular DDR machine is still there. Its new location is just on the reverse side of the room as it was moved to made room for more couches.
So, why did Lewis decide to make all the sudden improvements?
"Out of the Courtyard, Charlie's Place, and the Den, the Den was receiving the least amount of business, and they were close to shutting us down," said Yolanda, a Sodexo employee.
"I was surprised to hear the Den was receiving the least amount of business because it always seems so busy when I go there," said Colin Donnally, sophomore finance major. "I mean I know it's not the healthiest choice, but it's nice for when you just want something quick later at night."
Among the new decorations are banners, street signs and various Chicago team memorabilia such as the Bears, Bulls, Cubs, White Sox and Blackhawks. They help make the Flyer's Den seem more like a sports bar as well as a fun hang out.
Whether you happen to be a student who frequently visits the Den, or can count on one hand the times that you have eaten there, the new improvements are sure to please all.
"I think all the changes to the Den will cause a greater flow of students to come through and make it a more enjoyable experience," said Jean, a Sodexo employee.