DeVos advances to full US Senate for confirmation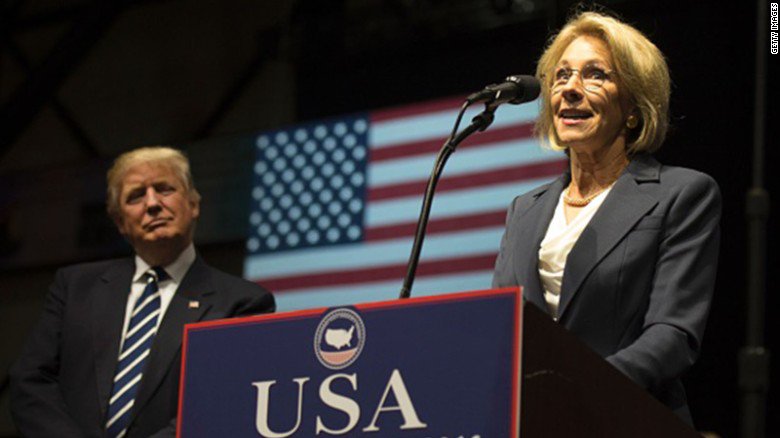 Photo courtesy of @CNNPolitics
Devos favors school choice and has been criticized by senators who worry about Devos' plans for public education.
Kayla Chamber, Layout Editor
After much delay and debate about the nomination of Betsy DeVos for Secretary of Education, on Jan 31., the Senate Health, Education, Labor and Pensions Committee advanced the nominee to the U.S. Senate for possible confirmation with a vote of 12-11.
The decision arrived after the first confirmation hearing Jan. 17, in which senators hit DeVos with hard questions on sexual assault on college campuses, student loan abuse and privatization of public schools.
DeVos' stance on many of the discussed topics were neutral.
During the hearing, DeVos also received questioning from Sen. Elizabeth Warren (D-Mass.), who asked DeVos about her experience with managing loan programs and banks, of which DeVos stated she had none. Sen. Patty Murray (D-Wash.) noted how she would like to receive DeVos' ethics review from the Office of Government Ethics before coming to a decision.
The vote was meant to occur on Jan. 24, but the committee received Devos' ethics review the previous Friday. In turn, the vote was postponed by Sen. Lamar Alexander (R-Tenn.) to give senators more time to review the paperwork amongst complaints by democrats that DeVos' confirmation was moving too fast.
Now DeVos must face the full Senate. However, all DeVos needs is a unanimous vote from Republican senators for confirmation.
Democrats have been critical of Trump's pick for Secretary of Education, scrutinizing DeVos for her support in school choice, voucher programs and DeVos' financial and political ties with charter schools in Michigan. Democrats would need to vote collectively along with three other Republican senators to block DeVos' confirmation.
Sen. Susan Collins (R-Maine) and Sen. Lisa Murkowski (R-Alaska) voted to advance Devos' nomination in the final hearing. Collins said she would like the assessment of the full Senate on DeVos' nomination, and both senators contend they are unsure of how they will vote with the full Senate.
"I continue to have concerns and I think that Mrs. DeVos has much to learn about our nation's public schools, how they work and what challenges they face," said Murkowski.
Aside from DeVos, numerous other picks for Trump's cabinet, including Rep. Tom Price (R-Ga.), the Health nominee, Steven Mnuchin, the Treasury nominee and Sen. Jeff Sessions (R-Ala.) as Attorney General are also meeting opposition from many democrat senators. Similar to DeVos' case, committee votes have also been postponed for fellow nominees after democrats boycotted the hearing by not attending.