Chicago White Sox: 2014 Surely Can't Be As Bad As 2013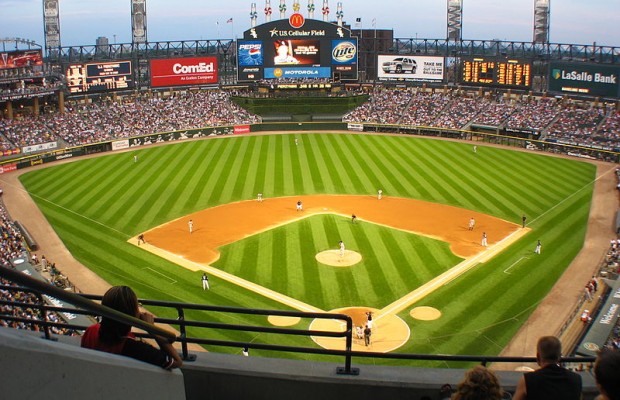 Photo from Wikimedia Commons.
Nicole Kappelman, Assistant Sports Editor
After sitting and watching the unbearable 2013 Chicago White Sox baseball season come to an end, I speak on behalf of myself and every other Sox fan: we're all eager for the past to remain behind us and look forward to the 2014 season.
Ending the 2013 campaign with a 63-99 record, they ultimately had one of the worst records in baseball. Finishing last in the American League Central standings, there wasn't even a prayer that could be said to try to get them into the Wild Card race, seen as they were almost dead last in those standings as well.
It was so bad in fact, that the Cubs even had a better record than them in the end. … as painful as that is to admit, someone had to point it out.
So here's hoping that the 2014 season will prove to at least be somewhat better than what was displayed last year.
With that said, it seems management has decided to add some new names to the roster and try to give the Sox a "fresh start." After trading closer Addison Reed back in December, the Sox picked up rookie third-baseman Matt Davidson who will likely be the projected starter.
Other notable players include multiple deals being made with numerous pitchers, including lefty Scott Downs and righty Ronald Belisario. Center fielder Adam Eaton, from Arizona, and right fielder Avisail Garcia will be the projected starters in the outfield as well.
One of the biggest deals made, however, was that of first baseman Jose Abreu. The Sox outbid competitors for the 26-year-old to a six-year, $68 million contract.
It was Paul Konerko, though, that gave every fan the biggest scare last year when his decision was up in the air as to whether or not he would be returning, retiring or moving on elsewhere. Becoming a free agent, the Sox immediately picked the captain back up for a one-year, $2.5 million contract where he will play alongside Abreu and not only mentor him, but the rest of the team … thank God.
The last question remaining was that of manager Robin Ventura. While Ventura led the club to a winning record in his first season back in 2011 of 85-77, fans have been questioning what his impact has been in the years to follow. Ventura will continue his legacy with the Sox, however, as he was signed to another multi-year contract with the organization. Personally, I am a huge fan. As long as we never have to see Ozzie Guillen ever again, it doesn't matter to me who stands in the dugout every game.
Despite what has happened in the past, it's always better to look forward. We have our team captain back, a manager who will always be better than the Guillen era and numerous new faces who will hopefully bring the Sox to a better record than displayed last year. Heck, they might even be playoff contenders once again. Whatever the outcome, though, as long as they have a better record than the Cubs, I'll be a happy fan.
Follow the Sox as they kick-off the 2014 Spring Training exhibition on Friday Feb. 28, in Glendale, Ariz. against the Los Angeles Dodgers at 2:05 p.m. CT.