Cheerios launches campaign to save bees
Leah Laskowski, Assistant Tempo Editor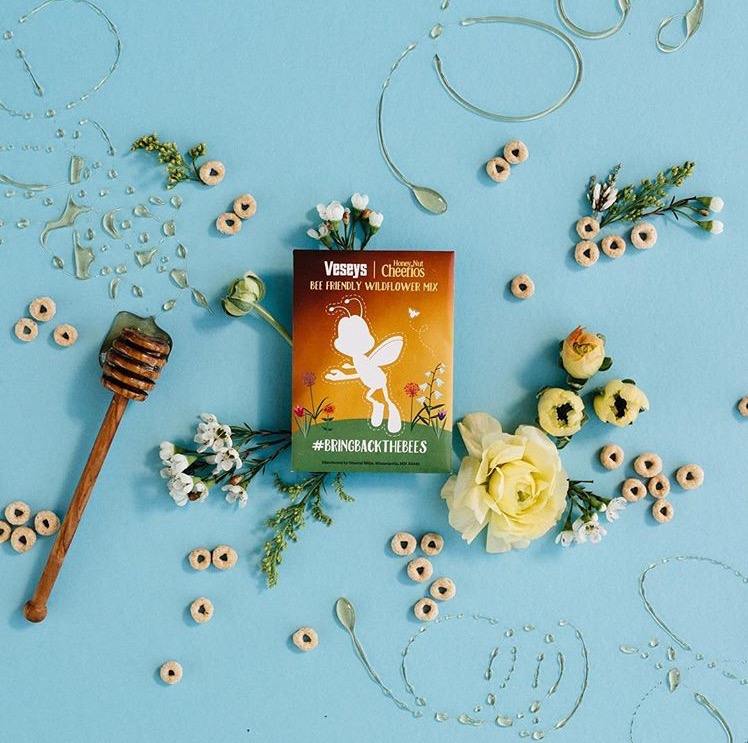 Photo courtesy of Instagram user @Cheerios.
On March 17, Cheerios announced that within one week, they have had the pleasure of providing over 1.5 billion seeds to Americans to continue making a more bee-friendly world.
As an eye-opening reminder that the world's population of bees is plummeting, Cheerios cereal is facilitating the #BringBacktheBees movement.
In March, Cheerios pulled its mascot Buzz from boxes of their cereal brand Honey Nut Cheerios. In place of Buzz is now a white silhouette, launching the "Where's Buzz the Bee?" campaign in order to give its customers a jarring realization that there's something serious going on with the world's bees.
Cheerios also wants their consumers to take action in saving the bee population and in doing so, bring back their honeybee mascot. The campaign involves adults, families and children to get all ages thinking about a world without bees.
Forty-two percent of the bee colonies in the U.S. have collapsed, CNN reports. This is alarming due to the fact that bees play a critical role in pollinating the world's food supply.
"Bees and other pollinators make one in every three bites of food we eat possible," Cheerios posted on their website.
However, by planting millions of wildflower seeds nationwide, the process of saving the bees can begin. The flowers that sprout will create bee-friendly habitats where they can collect pollen, nectar and feed their young, according to CNN.
With this information, Cheerios has begun to implement a way to increase the amount of wildflowers. The brand has provided more than 100 million free packets of wildflower seeds to those who want to help.
Their website also tracks where the wildflowers have been planted across the U.S. with current estimates showing their goal has been reached 10 times over.
The campaign has not only surmounted its intention, but has been buzzing all over social media.
Cheerios encourages participants to plant the seeds and post pictures of what springs from the ground on social media sites. The Cheerios campaign has trended on both Twitter and Facebook due to the thousands of photos already uploaded and the celebrity attention it has recieved.
Television host and comedian Ellen DeGeneres praised Cheerios on her show along  with 5-year-old guest and science sensation Brielle Milla, who is very invested in saving bees.
"Brielle learned about pollination and why bees are so important. It doesn't get much cuter than this #BringBacktheBees," DeGeneres wrote on Twitter.
"Pretty Little Liars" actor Ian Harding also had gracious words for the billion people who have joined the movement.
"Billion is a beautiful word. Thanks for helping us reach the goal of a billion wildflowers to help #BringBacktheBees," Harding wrote from his Instagram account. "Grateful to work with Cheerios on such an important cause, and can't wait to see our words in action."
There are a number of reasons for the crash of pollinator bees worldwide. According to a report by USA Today, reasons include habitat loss, climate change and drastic chemical use.
Cheerios has posted step-by-step instructions on how to correctly plant wildflower seeds and continue to support the bee movement on Cheerios.com.