Celebrities campaign on college campuses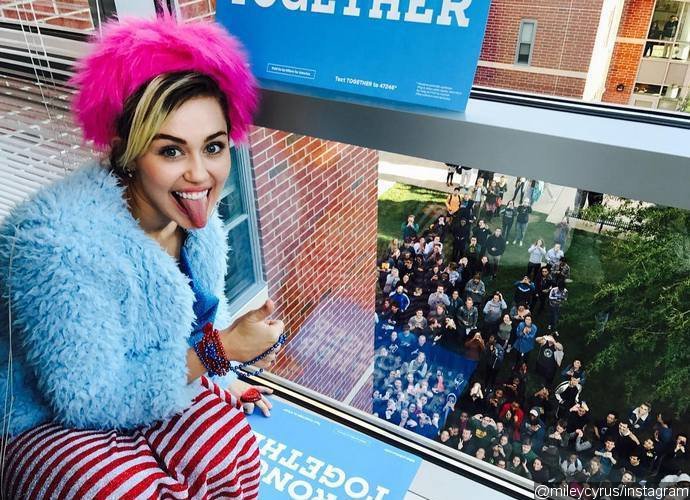 Photo courtesy of  Instagram user @mileycyrus
Miley Cyrus joins an ever-growing list of celebrity endorsements for both Hillary Clinton and Donald Trump.
Jake Johnson, Copy Editor
Celebrities, including Katy Perry and Miley Cyrus, have hit the campaign trail in support of presidential candidate Hillary Clinton, making stops at college dormitories.
While making a visit at the University of Nevada, Las Vegas on Oct. 23, Perry knocked on student's doors in an attempt to gather interest for the election during Nevada's early-voting period.
The "Dark Horse" singer has been a vocal supporter of Democratic nominee Clinton since the announcement of her campaign, performing at rallies for the candidate, and even going as far as dressing up as the 69-year-old for Halloween this year.
"There's no other alternative," said Perry to the Washington Post. "We need our issues heard, we need our bodies taken care of, we need all that choice."
Singer Miley Cyrus, previous supporter of Clinton rival Bernie Sanders, also took to the dorms on the same day to advocate for the Democratic candidate.
During her visit to George Mason University, located in Fairfax, Va., Cyrus similarly discussed the benefits of voting to students, while also sharing her own personal political ideas.
"Someone told me that I don't live in a reality," Cyrus said to students, according to TeenVogue. "I think Hillary will make what today is the reality that we all want to live in."
Some students, however, question the effectiveness of celebrity endorsements.
"Celebrities giving endorsements to people running for office seems pointless," said junior computer science major Mitch Distefano. "It makes me judge the celebrity's views, as opposed to the candidates."
With the Election Day right around the corner on Nov. 8, these visits come at a crucial time for the presidential race. Both Clinton and Republican nominee Donald Trump have been making stops at battleground swing-states, which include Virginia and Nevada.