Career Expo approaching: how to develop business connections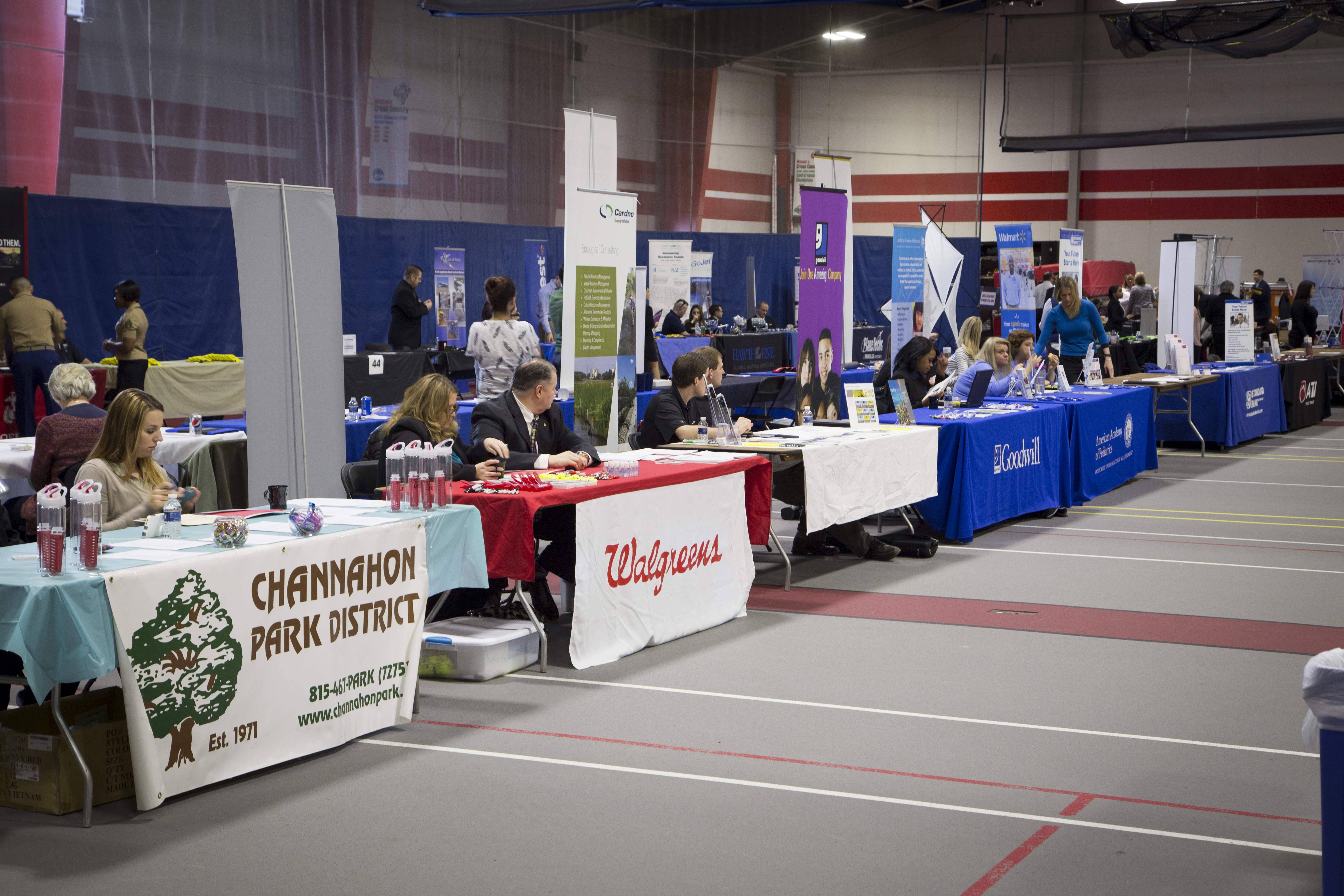 Photo courtesy of Career Services
The Career Expo features companies and business looking for applicants under a specific major, while others take applicants under a variety of majors.
Kayla Chambers, Layout Editor
The upcoming Career Expo on March 22 is an event in which students should be able build their professional network. Experts say it's no longer enough to secure a job simply by applying online to as many jobs as possible.
An article from U.S. News reported that 70 percent of all jobs are found through networking, while the number of jobs found through applying online was a mere 15 percent.
One of the reasons more jobs are being found through networking is because online application systems are overwhelming employers, according to Mary Myers, Lewis' executive director of Career Services.
"Anybody can apply, not just qualified people," Myers said. "It's very difficult for them to get through all of that. If they get a referral from someone they know or through a professional network, they reach out to the employer through another connection, it's more likely to resolve in an interview."
Sometimes it's easier for employers to hire through network connections and referrals rather than hiring someone whose character and capabilities with which they are not familiar.
Now that fear for the future is settling in, what would be the first steps in creating professional connections?
Students can work and build relationships with faculty and staff in order to broaden their network. Connecting with alumni on LinkedIn who are working in the same field and joining groups with others who share similar majors are other opportunities to network.
Attending the networking and career events at Lewis are a great way to build connections. Dress well, bring a resume and be ready to chat. Talking to alumni at career events can be a good way to settle nerves, as those alumni were once in the student's shoes. However, students should take all opportunities for face-to-face conversations with employers as it could mean a call back.
What would be a great way to start a conversation? Give the employer a sales pitch.
"It's important for students to recognize what their career objective is, because if you can't share that with someone then no one will be able to help you," Myers said.
Myers recommends coming up with your own goals for the future so that a positive sales pitch can be given to a prospective employer in your initial conversation. Researching careers or related jobs available within a student's field of study will also help define future goals. There are wonderful research tools that can also help, found on the Career Services website at http://www.lewisu.edu/resources/careerservices/index.htm.
Other tools on the Career Services page include sample resumes and internships. Students should also make use of the resource Flyers Get Hired lewisu.edu/gethired, where jobs and internship openings are regularly posted.
Many employers want students to have experience in their field before hiring them. Getting involved in clubs,  joining professional organizations on campus or doing internships are great ways to expand a contact list. Internships look extremely good on an application to demonstrate experience, and Myers believes internships to be "critical" for students.
"Some students get confused with the credit or not- for-credit part," Myers said. "They need to do it whether they get credit or not; whether it's paid or not paid, it doesn't matter. Some sort of experience that they can build their resume with that's what employers are looking for."
For even more preparation for getting a job in the future, students can also attend upcoming workshops. The ABCs of Getting an Internship workshop will take place in the AS building room 158A March 14. The Prepping for the Career Expo workshop will take place the following day in the same room.