Campus Reacts to Illinois Storms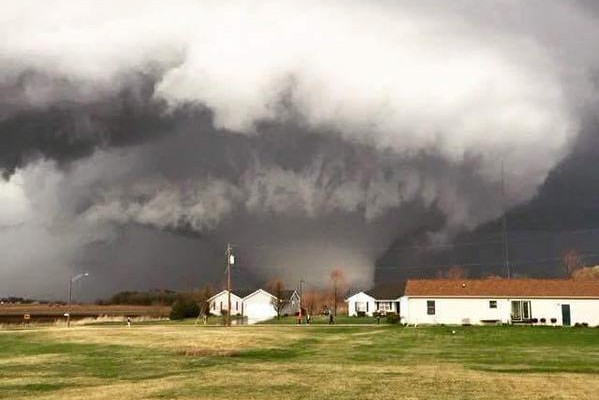 Photo courtesy of Flickr user Scott Prader: An EF-4 tornado ripped through Rochelle and Fairdale, Ill. on April 9.
Laura Fox, News Editor
With the recent tornado destruction to the towns of Rochelle and Fairdale, the state of Illinois is concerned about the future of this year's storm season.
An EF-4 tornado swept through the two towns, leaving multiple people injured and one dead, according to ABC 7 News.
Other areas were also affected by this massive storm, but the tornado ripped apart the towns of Rochelle and Fairdale, leaving behind flattened homes, destroyed buildings and plenty of debris.
As the Salvation Army and the American Red Cross, along with other volunteers, begin to aid the victims in rebuilding and getting back on their feet, Illinois begins to plan ahead.
At Lewis University, certain plans are in place to keep the campus safe in case of emergency.
Richard DiMaio, weather expert and aviation and transportation instructor, believes we could see more strong storms this season.
"It appears it will be more active than last year, since our winter seemed to end a little sooner and the Jetstream is creating a large trough of low pressure over the Rocky Mountains," DiMaio said. "This usually induces several medium strength, low pressure centers over the Midwest, conducive to generating severe weather."
Because of the potential risk this season, the campus community should be prepared if severe weather were to strike.
Deputy Chief of Police Mike Zegadlo advises students, faculty and staff to be aware of things the campus will do in an incident of severe storms.
"We do have a tornado siren on campus, and that is tied into the Romeoville emergency management agency," Zegadlo said. "We have a federal informer; it is basically a wireless police system throughout campus. They receive the same signal the tornado siren does, so they will pick up the signal and transmit a tone."
Students, faculty and staff can also feel some peace of mind knowing that certain members of the campus community will be watching for severe weather.
"In addition, six or seven of our staff are certified severe weather spotters," Zegadlo said.
Campus members should react in the most common way should a tornado siren go off or a tornado warning be issued.
Taking shelter and moving to the lowest level of a building and away from all windows is a step everyone should take in these situations.
James Montanari, chief of police for LUPD, assures that in case of an emergency, a Send Word Now notification will be sent to all students, faculty and staff.
Although LUPD has prepared a variety of ways to alert the campus of severe weather emergencies, all Lewis community members should be smart about taking action.
"Under some circumstances, you're going to have to decide what to do. We aren't going to be there to tell you," Montanari said.
Along with being prepared, students and staff should be aware of the current weather situation every day.
"Visit the aviation building once or twice a week, and if you see me, ask me for a weather update," DiMaio said. "Otherwise, most student pilots are pretty aware of the weather. If you know one, ask them for an update. In the case of a large scale event, paying attention to local weather reports is the best safeguard."
For more information on what to do in a severe weather situation on campus, visit www.lewisu.edu/emergencyplanning.