Campus Ministry giving tree helps Lewis give back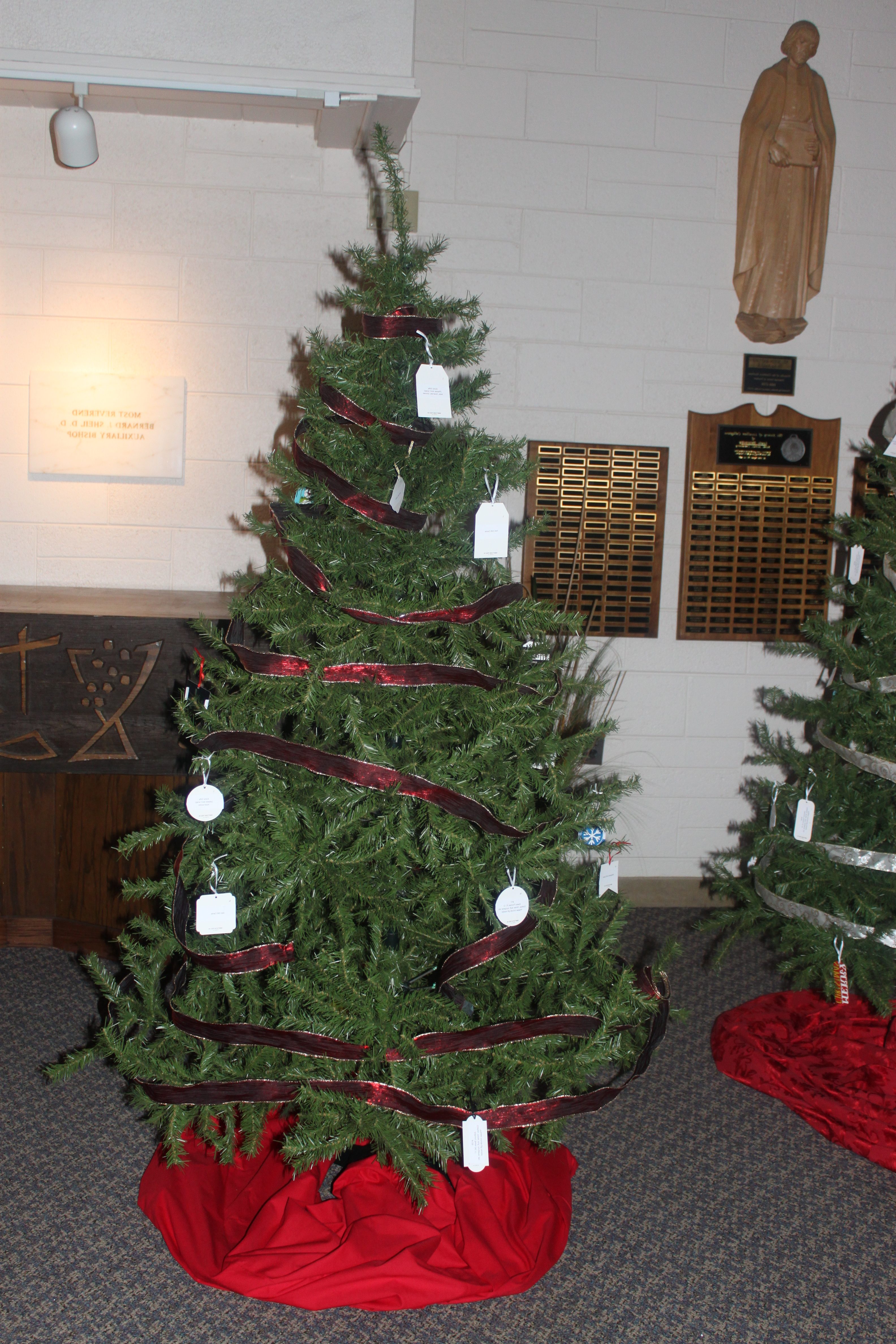 Photo courtesy of Julia Mach
Two Christmas giving trees currently stand in the Sancta Alberta Chapel.
Julia Mach, Religion Editor
Two Christmas giving trees have been placed in the Sancta Alberta Chapel by Lewis University Ministry for the upcoming holidays.
The giving trees are specially decorated with gift tags that list a person's name, gender, age and what he or she would like for Christmas. Lewis students, staff and faculty can play "Santa" by picking a tag and purchasing the listed Christmas gift for someone in need.
Items listed include gift cards to grocery stores, clothes, toys and games. Those who wish to participate must have a wrapped gift (with gift receipts) under the giving trees by Wednesday, Dec.14.
The giving tree project began in the 1990s with Campus Ministry staff member Donna Quathamer, who established a relationship with Corpus Christi Parish in Bronzeville on the south side of the Chicago.
"Each year, we team up with Corpus Christi to get the names and ages of children who, if it wasn't for this collaboration, otherwise might not receive any gifts during the holiday season," said Sean Ruane, university minister and coordinator of justice. "By doing this project each year, we bring a sense of hope and joy into the lives of these children. And in the process, we hope that the hearts of our students are transformed by their loving act of service."
Lewis students are grateful for the opportunity to give back on campus, especially during the holidays.
"I think that it's a nice thing that the school offers because it gives us the chance to be a 'Santa' for a family," said Rachel Seiberlich, a junior math and secondary education major and peer minister at Lewis.
Graduate student Audrey Donovan agrees that providing basic needs for families is a simple way to help others around Christmas. "I think it is a great opportunity to be able to help the community and the people in the community," Donovan said. "It is just kind of eye-opening because the stuff that is usually on those lists is something like t-shirts or underwear…It's things that these kids actually need, and it's just nice to help someone that way."
Students in Ministry also played a direct role in carrying on the giving tree tradition.
"During Christmas, people normally think of toys and fun things," said Rachel Aubart, an undergraduate student who helped with setting up the giving trees this year. "People do not necessarily think of the people in need who need things like clothes, mittens or coats. Often times families need extra dish soap or laundry detergent and we can get that at the C-store [Common Grounds] with our meal cards, and we have the means to do it. It is a fun way to help people around Christmas-time, because Christmas is not always about receiving. I am a big giver and I believe giving is a big portion of Christmas and spreading that cheer to people."