Campus Facilities Tackles Brutal Winter Weather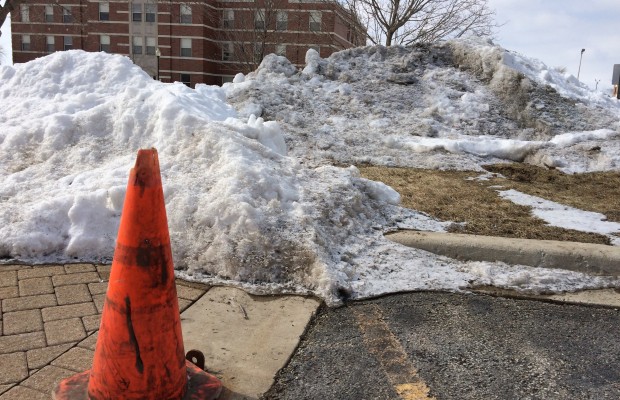 With a large amount of snow piling up on campus, the facilities team works diligently to provide a safe environment for students, faculty and staff.
Laura Fox, News Editor
With winter weather in full effect, ranging from below zero temperatures to whiteout blizzards, it can make finding sidewalks, parking spots or just a way to school in general seem impossible.
Given the fact that the Lewis student population consists of a large percentage of commuters, traveling to class can be dangerous and somewhat frightening. For residents on campus, making the trek to class or to get food is not very exciting when there are multiple inches of snow standing in the way.
Let's face it: these situations are frustrating. For any student, staff or faculty member, anything standing in the way of getting to school or work on time makes things feel stressful and upsetting.
But have no fear; the campus facilities team continues to make necessary preparations that are vital this time of year. Their top priority is making campus safe.
Before the predicted severe weather begins, administration, campus police and facilities all begin evaluating the situation. Then during the storm, these three teams communicate with each other to relay information about campus status, progress reports and any decisions to delay start or close the school.
Associate Vice President for facilities, Don Castello, explains the process of clearing up campus during a major snowstorm.
"The first priority is to keep the main arteries open for emergency vehicles at all times. The second priority is to keep pathways leading to food service open for residential students during the event," Castello said.
"The last priority would be commuter parking lots, and usually we wait until the event has subsided or ended to do the final clearing of those areas."
When walking or driving around campus in these severe weather situations, it can be hard to believe this entire process is occurring, which can upset people.
But, it is important to keep in mind that it is no easy task to keep up with these conditions. As soon as an area is finished being cleared, it could be covered with snow once again.
Even on days where campus is closed due to severe weather, the tasks facilities  are responsible do not disappear; they still need to find a way to be on campus in the severe conditions to complete their jobs, even when other faculty and staff members do not have to.
"The facilities staff are dedicated professionals and understand their role in emergency situations," Castello said. "They normally are contacted in advance of snow events and are scheduled to arrive on campus based on all of the variables considered and scheduled campus activities."
It can be very dangerous outside during a severe snowstorm, but that does not stop the facilities team from completing their most important task: Making the campus safe for both vehicles and pedestrians.
And what is the best piece of advice facilities can give to students and staff traveling to and around campus in severe weather?
"Take your time," Castello said.
Severe weather, especially during the winter, is not something to be messed with. Be sure to take necessary safety precautions when traveling to and around campus, and the facilities team will continue to work toward making Lewis a safe environment throughout the winter season.