Campus Community Gains Membership to Lynda.com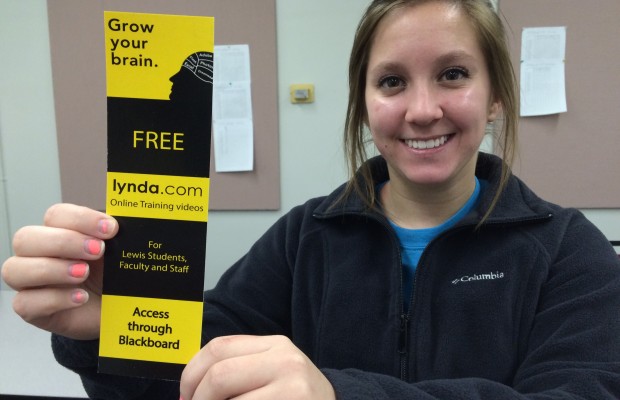 Student Kyley Morton, freshman nursing major spreads the word about Lynda.com through promotional bookmarks.
Laura Fox, News Editor
Along with the multitude of technology resources and databases provided to the campus community, students, faculty and staff now have access to the online software training website, Lynda.com
Lynda.com was founded in 1995, and has since been helping its users learn business, software, technology and creative skills, both professionally and personally.
Offering over 2,600 courses and 125,000 videos, Lynda.com is a tool that can provide an abundance of help on a variety of topics.
Nancy O'Sullivan, instructional design specialist for the Center for Academic Technology Solutions, has used Lynda.com in the past and is excited for the campus community to experience everything the program has to offer.
"I'm a Lynda subscriber—I have been for years. I learned a lot of my technology through Lynda actually," O'Sullivan said. "It's just a wealth of information."
Students, faculty and staff can access their free Lynda.com account through the Blackboard homepage.
Users can set up a personal profile that highlights specific interests and continue to browse the site.
Content can be found on the site through searching by keyword or by browsing the library. Users also have the option to create playlists with an account, which is a quick way to save videos to watch at another time.
Other features Lynda.com users have access to are taking notes on the videos, which will bookmark the spot in the video where the notes are located.  Users can also keep track of course history, bookmark favorite courses, tutorials or specific points in a video, as well as earn certificates of completion after finishing a course.
The online business network, LinkedIn recently purchased Lynda.com. Because users can earn certificates after completing a course, there is the option to display these certificates on LinkedIn profiles to build onto a resume.
"It is a very well rounded product that we are bringing in. And now that LinkedIn has bought it, it is going to get even bigger," O'Sullivan said.
Students can watch tutorials or experience courses on a variety of topics, whether they are related to a field of study or just a personal interest.
"[Students] can work on their professional development. They can add it to their resumes so it can help with their jobs in the future," O'Sullivan said. "It can help them with their course studies right now. And it will just help them with extra curricular things they want to do. It's not only just geared towards their career; it can also be used towards just their general interests in life."
Students, faculty and staff can all find use in this product. Instructors can use Lynda.com to show tutorial videos in the classroom, learn about effective ways to use Blackboard as well as studying up on presentation skills and technology.
Students can expand their knowledge in programs like Microsoft Office and Adobe software, as well as learn about a variety of applications and technologies.
Lynda.com is accessible to users at all hours of the day, which will be helpful when students need last minute assistance without the availability of an instructor.
"It can help the students because that 24/7 help is always there, and I think that is really reassuring for the students for them to go online and get their answers," O'Sullivan said.
With the end of the semester quickly arriving, the campus community has full access to Lynda.com, which will be helpful when preparing for and finishing up final projects and exams.
"We definitely want students using it," O'Sullivan said. "This is coming at a really good time, with projects being due and such, so we really want to get the word out."
The campus will have free access to Lynda.com for one year, so students, faculty and staff should take full advantage of this resource. That way, it can eventually be renewed and the Lewis community can continue to learn from it for many years to come.
"We really have to commend the administration for getting this. It is an amazing product," O'Sullivan said.