Ukraine's President Yanukovych Signs Amnesty Bill into Law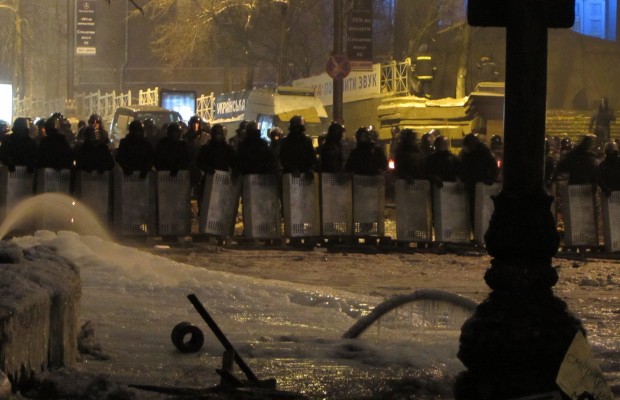 Photo from CNN Wire: These pictures are shot shortly before midnight 27.01.2014. They show the frontline on Hrushevsky street. About 50 metres separate the protesters from the Berkut anit-riot police. 
Laura Smith-Spark and Diana Magnay, CNN Wire
Ukrainian President Viktor Yanukovych signed into law an amnesty bill for detained anti-government protesters, his office said in a prepared statement Friday.
The country's Parliament approved the amnesty bill in an extraordinary session Wednesday, a day after it annulled draconian anti-protest laws.
The opposition has rejected the amnesty measure, which comes into force only if protesters vacate seized government buildings and unblock streets and squares.
Protesters have remained on the bitter cold streets of the capital, Kiev, in defiance of the amnesty law, but the violent confrontations that broke out last week have not resumed.
They want to see wider constitutional reforms and a rebalancing of power away from the President to the Parliament.
Thursday's reappearance, bloodied and battered, of a missing street activist has also sparked questions about apparent human rights abuses in Ukraine.
Dmytro Bulatov, who went missing more than a week ago amid anti-government protests, says he was kidnapped, crucified and tortured by his captors before being dumped in a forest. Video footage shows blood caked on his head where he said his ear was cut off.
Bulatov, who organized convoys of motorists as part of the so-called AutoMaidan protest movement, said he was asked who was funding the effort. His abductors seemed unable to understand that the protesters were there of their own will, he said.
The Interior Ministry is investigating what happened to Bulatov, state news agency Ukrinform reported.
'Act of intimidation'
Opposition leader Vitali Klitschko, of the Ukrainian Democratic Alliance for Reforms, or UDAR, said on the party's website Friday that Bulatov's treatment was "an act of intimidation of all active citizens."
The party appealed to the prosecutor general's office this week to investigate Bulatov's disappearance and do its best to find him.
European Commissioner for EU Enlargement Stefan Fule urged Ukrainian authorities to act swiftly on kidnappings and torture, such as in Bulatov's case.
"This kind of violence & impunity is deplorable & must stop," he tweeted.
Human Rights Watch said last weekend that Bulatov's disappearance was the third such of an activist in a week and that there was "every reason to believe his disappearance is related to his activism."
And European Union foreign policy chief Catherine Ashton said Wednesday that she was "very worried about people who appear to be missing."
There is talk of people "almost being taken hostage," she said, adding, "wherever it comes from, the sense of violence and intimidation, it must stop."
The Parliamentary Assembly of the Council of Europe warned Thursday that Ukraine could face sanctions from the body if human rights violations continue.
Its resolution called for a full investigation into "the excessive and disproportionate use of violence by the police against protesters" and said it was "especially concerned about credible reports of torture and maltreatment of protesters by the police and security forces."
It also raised concern about violence directed at police by extreme right-wing protesters.
Military calls for stability
Ukraine's military forces urged the President on Friday to act to restore stability, saying that a further escalation of the political unrest in the country threatens its territorial integrity.
Yanukovych must take "immediate measures to stabilize the situation," said a statement posted by the country's Defense Ministry.
In an interview with Russian state news agency Itar-Tass on Sunday, Ukrainian Defense Minister Pavel Lebedev said that Ukrainian military forces would not interfere in the country's current political unrest.
"The army will abide strictly by the constitution and laws of Ukraine that set clearly its role, functions and tasks, including use of armed forces," Lebedev said.
Yanukovych on Thursday defended his government's handling of the political crisis, saying that it had "fulfilled all its obligations" and that opposition leaders were stoking people's anger for their own gain. His office had earlier said he was out on sick leave.
Former Ukrainian President Viktor Yushchenko told CNN's Christiane Amanpour on Thursday that the Ukrainian opposition does not fully control the street protests that have shaken the country.
The opposition, he said, has not provided a "comprehensive pact" that would satisfy the demands of the protesters.
The opposition is concerned about "the fight for power," but less with "the strategic course of the country," he said, speaking through a translator.
'Respect his people's wishes'
Protesters have camped out on Kiev's Independence Square, or Maidan, since November, when the President reversed a decision to sign a long-awaited trade deal with the European Union and turned instead toward Russia.
The protests turned violent after Yanukovych's party rammed a controversial anti-protest law through Parliament two weeks ago. At least four protesters have been killed. Police officers have also been killed and injured in the clashes.
Parliament voted to annul the anti-protest law in a special session Tuesday, in what the opposition said was a first step toward meeting its demands. Prime Minister Mykola Azarov and his Cabinet resigned shortly afterward.
Opposition politicians have called for Yanukovych also to stand down, but he has not given any indication he will do so.
Speaking at a joint news conference in England on Friday with French President Francois Hollande, British Prime Minister David Cameron appealed for a peaceful resolution to the crisis.
"We are concerned about the violence in Ukraine. The repeal of restrictions on fundamental freedoms was a step in the right direction, and we urge President Yanukovych to respect his people's wishes and put his country back on a path to a more stable and secure European future," Cameron said.
"On Ukraine, we are calling to an immediate dialogue without violence," Hollande said.
There have been tensions between Russia and the European Union over developments in Ukraine, with each side accusing the other of interference.
Russian President Vladimir Putin, who agreed to a $15 billion loan deal with Yanukovych after his U-turn on the EU agreement, has denied exerting undue influence on the former Soviet republic.
CNN's Diana Magnay reported from Kiev and Laura Smith-Spark wrote in London. CNN's Victoria Eastwood in Kiev, as well as Pierre Meilhan and Mick Krever, contributed to this report.