Working Hard On And Off Campus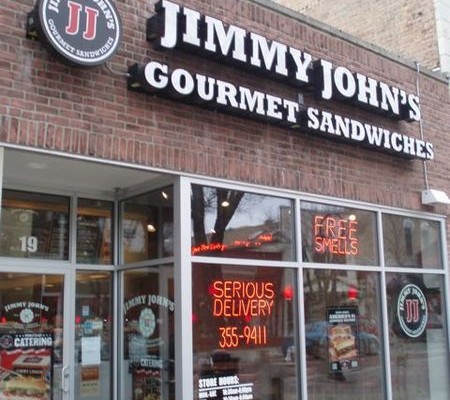 Photo from Wikimedia Commons: Giselle Garcia, a sophomore, loves her job at Jimmy John's, located on the corner of Weber Rd. and Airport Rd.
Brent Sumner, Tempo Editor
Brian Neal, Sports Editor
The fall semester is coming to a close and in about six short weeks, the spring semester will begin and many Lewis University students will be looking for jobs and trying to balance school and work.
If one is not able to acquire one of the limited on-campus positions, then off-campus jobs may be necessary.
Although juggling school and work can be difficult at times, three Lewis students have agreed that it is worth the effort for extra spending money.
"I absolutely love working while attending school," senior marketing major Mike Budz said. "It is a good and fun break from class. I have a lot of friends who work at the theater, so punching in to work doesn't really seem like work that much."
Budz works at Marcus Theaters in Orland Park where he is a shift supervisor.
"I got the job the summer before my sophomore year," Budz said. "I filled out an application online, got a call in the next few days and then had an interview with the general manager. I was a regular staff member for a year, then got promoted to supervisor."
There are many sites online such as Monster, Indeed and Career Builder where job opportunities are posted to fill out applications. To increase one's chances, driving around to local businesses and finding places that are hiring is also a good way to find a job.
Giselle Garcia, a sophomore marketing major, found her job as a Jimmy John's delivery driver in that way.
"My boyfriend actually told me that Jimmy John's was hiring," Garcia said. "I went and filled out an application and after a couple months I got a call for an interview."
Alen Leonhardt, senior sports management major, has two jobs while attending Lewis. With his position at Xsport in Crestwood as well as being an assistant wrestling coach at Evergreen Park High School, Leondhardt tends to work over 40 hours a week.
"I work fairly often," Leonhardt said. "Wrestling is a six-day-a-week job, Monday through Saturday. It's weird how the hours go, because normal practices are about three hours and meets are roughly five. Tournaments, which are held on Saturdays, are all day 7 a.m. to about 5 p.m.  Xsport is a bit different because I technically make my own hours; it just depends on when my clients want to come in. Most days I usually work both jobs as well as go to school."
While Leonhardt tends to work long hours each week, he finds that his job pays off in the long run. Many students have bills to pay, and finding the balance between school and work is important to achieve financial goals.
"I personally don't like doing both, but since I'm older and have bills to pay, I'm stuck doing both," said Leonhardt. "It's very tiring, but at the same time I don't necessarily mind it because I have two jobs where I get to help kids become better athletes and people, as well as potentially change someone's life for the better at Xsport; so it's not that bad."