Why Don't Boy Bands Get The Credit They Deserve?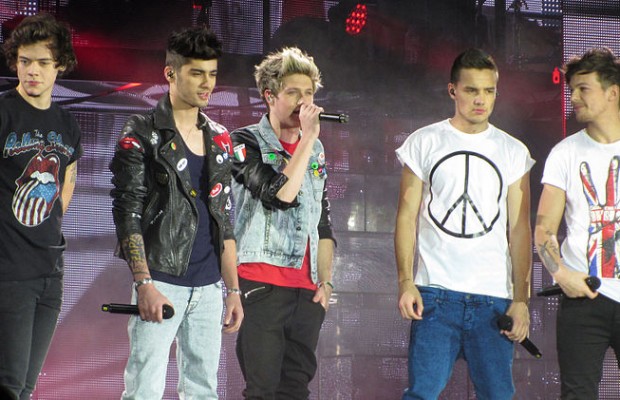 Photo from Wikimedia Commons: Although many doubt their talent, boy bands from the '90s and today are stereotyped and for that reason, they are underrated.
Alyssa Cicero, Copy Editor
Lauren Barnes, Opinions Editor
Being a 21-year-old at a One Direction concert kind of sucks. Not only do people look at you like you have six heads, but you have to put up with pre-pubescent girls shouting inappropriate innuendos about what they want to do with Harry Styles backstage.
But then the lights go out and these five British guys who sport a total of over 40 tattoos between them take the stage, and you realize that it's all kind of worth it. Dang; these boys can actually sing.
Yet, most of the world writes them off as being "another cookie-cutter boy band," as they've done with every group of males that has come on the music scene since who knows when. Granted, it's hard to take anyone seriously when their face adorns little girls' underwear and pajama sets, but when it comes
down to it, it really is all about the music.
Recently, Joe Jonas of the Jonas Brothers opened up in a "tell all" interview with New York Magazine about how Disney controlled his and his brothers' lives during their heyday. Being plastered down the toy aisles at Walmart isn't any 20 year-old's idea of a good time, but unfortunately, it comes with the business. The stigma that surrounds boy bands has a lot to do with the image they garner both in the media and retail stores, and neither have anything to do with vocal ability.
No one should judge a person because of what they listen to. If a boy band competed in a show and actually made it to the live shows (cough cough, "X Factor"), who are you to judge what kind of music they make? They obviously can sing. (For those who are unaware, One Direction got started on the reality show in the U.K.)
This article isn't a PR piece for One Direction. It really has little to do with them, actually. It has to do with how the general population doesn't judge music for the right reasons, specifically music coming from boy bands.
Let's look at Justin Timberlake. He became a solo artist after being in a boy group that lasted seven years. They went by 'N Sync, and were mega successful. Over 10 years later, we have all been "Justified" with his "20/20 Experience," and that's because he can actually belt out lyrics in the right tone.
Pop music isn't for everyone; we get that. We also get that 95 percent of you would rather dive into a pit of rattlesnakes before you're caught dead seeing The Wanted or any other all guy group. But the next time an award show comes on TV and one of these groups performs, don't change the channel or mute the TV. Your mom always told you to never judge a book by its cover, right? Do the same here, and give them a chance.