Swimmers Strong Start Continues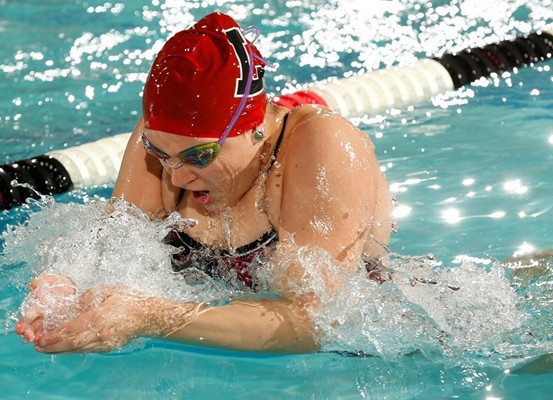 Photo provided by Steve Woltmann: Sophomore Montana Clasby won GLVC Women's Swimmer of the Week for her performance at the House of Champions.
David Ridderhoff, Contributor
Lewis' men's and women's swimming teams both got close wins over Lake Forest College and a strong showing at the House of Champions Tournament, hosted by IUPUI.
"The meet was a field of Division I teams, so finishing where we did as a team and as we did in individual events was very satisfying. Most teams there fielded a squad of divers, which we don't have so that hurt us in scoring a little," said head coach Roger Karns.
The men finished in third place while the women took fourth. Freshman Aidan Brennan and senior Derick Carlson took the top-two spots in the 500-yard freestyle event, while freshman Victor Tarin and the 400-yard medley team got second place finishes on Friday.
On Saturday, Tarin got another second place finish in the 100-yard butterfly, while Brennan and Carlson both got podium spots for the 200-yard freestyle, finishing first and third respectively. The 800-yard freestyle relay team also got first place to finish a successful Saturday. Sunday brought plenty of podium spots as well, with the most notable being the 100-yard freestyle as Tarin and Brennan took first and second.
The women didn't have as many victories, but sophomore Montana Clasby performed very well. Clasby won the 100-yard breaststroke on Saturday, and then won the 200-yard breaststroke on Sunday. Freshman Shannon Sullivan got second place in the 200-yard freestyle and helped the 800-yard freestyle team take third place on Saturday, while getting another podium spot, a third place finish, in the 100-yard freestyle on Sunday.
CollegeSwimming.com has ranked both teams as No. 8 in Division II rankings this weekend after their showings at the House of Champions Tournament. It could be just the start of a good season, and with many dual meets coming up, the Flyers could start dominating their competition.