Strong Start For Women's Hoops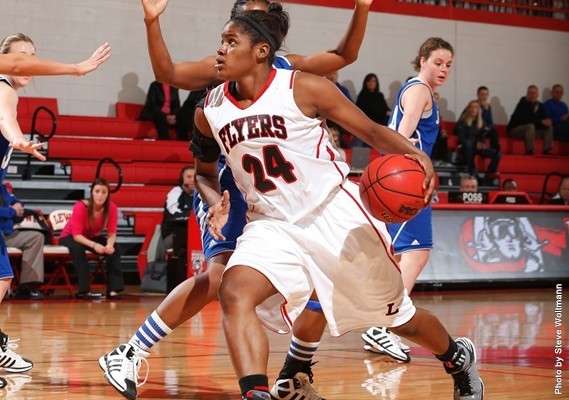 Photo provided by Steve Woltmann: Mariyah Brawner-Henley, sophomore, has double-doubles in five out of six games so far in the 2013-14 season.

Brian Neal, Sports Editor
At 4-2, the Lewis University women's basketball team have gotten off to solid beginning to the 2013-14 season, and they've split wins and losses evenly in their last four games.
The Flyers started that stretch with a 73-68 victory over Upper Iowa in Fayette, Iowa on Nov. 17. Lewis played stout defense, holding the Peacocks to only 38.3 percent shooting and forced 16 turnovers.
Redshirt senior Lauren Mead led the team with 22 points, seven rebounds, two steals and two blocks. She was 8-of-16 from the field and 6-of-6 from the free-throw line. Three other Flyers scored in double-digits, junior Jamie Johnson had 16 (eight assists as well), sophomore Mariyah Brawner-Henley scored 13 (seven rebounds) and junior Kristin Itschner put up 10.
"Lauren had a nice ball game tonight," head coach Lisa Carlsen said. "I liked our defensive intensity in the first half especially, but it is never easy on the road."
However, the Flyers followed up that win—and third-straight to start the season—with a pair of losses. The first came at the hands of Northern Michigan despite a huge double-double from Brawner-Henley to the tune of 25 points and 10 boards.
Lewis was outrebounded 49-44 and turned over the ball 18 times, but most alarming was their 34.2 field goal percentage. NMU didn't shoot well themselves at 39.3 percent, but it was enough for the nine-point win, 75-66.
Grand Valley State then took down Lewis 67-59. Johnson put up 15 points while Brawner-Henley had another double-double with 13 points and 10 rebounds. Junior Nikki Nellen also had a strong performance despite the defeat putting up nine points, 11 boards, six assists and three steals.
"We had better energy and effort today" Carlsen said. "Grand Valley just made a few more plays down the stretch."
Following a tough couple of defeats, Lewis bounced back in a big way with a 74-56 drubbing of St. Francis.
"It was important that we came out of the locker room with a high level of intensity," Carlsen said. "We were able to establish ourselves on the defensive end, which allowed us to get out and run offensively and create a cushion."
Defensively, they were terrific. They forced 19 turnovers, held Saints to only 32.3 percent shooting and outrebounded them 49-35.
Brawner-Henley scored 20 points and had 15 rebounds as well. Junior Jess Reinhart had a big game off of the bench as well, putting up 15 points on 6-of-10 shooting with five rebounds. Itschner and Johnson had a good night distributing the ball with five assists apiece.
On Dec. 7, the Flyers took on Purdue Calumet at home; for results, check out thelewisflyers.com. Lewis continues this five-game home stand with three games on Dec. 19, Jan. 3 and Jan. 5 against Lincoln Memorial, Truman State and Quincy, respectively.
All quotes courtesy of the Lewis Athletic Department.