Senior Goodbyes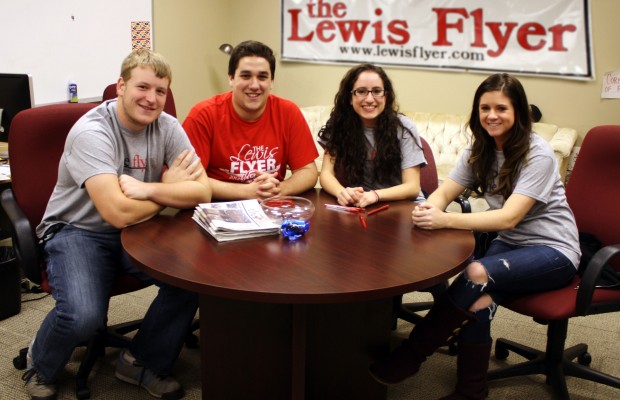 Alyssa Cicero, Copy Editor
If someone told me four years ago that I'd be working for the newspaper in college, I would have laughed. Although I have always loved to write (when I was younger, I was convinced I'd be J.K. Rowling 2.0), I've never had an interest in journalism.
That's probably why when advisor for the Online Flyer, Ben Eveloff, approached me at the end of my freshman year with an application to join the online staff, I politely filled it out but threw it away when I got home.
Luckily, I had a change of heart the following year when Lisa O'Toole asked me if I'd consider being one of the copy editors for the print publication. I agreed, although rather hesitantly at the time.
Looking at it now, saying yes to her was probably one of the greatest decisions I've made while I've been a student at Lewis. To an outsider, I'm sure we look like a bunch of freaks that stay up until 4 a.m. to put together a newspaper. But in reality, these people who I have worked with the past year and a half are some of the most talented I know, and above all, they are some of my greatest friends.
It honestly hasn't hit me yet that I'm graduating in less than two weeks, and I know I would not be in this position right now if it wasn't for the unwavering support of my parents. They thought I was crazy when I suddenly announced my freshman year that I planned to graduate in 3.5 years, and I can't thank them enough for being my biggest cheerleaders in absolutely everything I do.
Lisa and Ben, you both have been integral to my success here at Lewis, and I can't thank either of you enough. Lisa, you have helped me to discover my passion for PR, and I am truly grateful for the great mentor and friend you have become. And Ben, you've made me realize that social media is more than a place to post One Direction song lyrics; I know everything you've taught me about the Internet will be of utmost use in the future. I also want to give a shout-out to my friends and colleagues over in the Office of Admissions who have graciously provided me a job since I was a freshman.
And to the rest of you on staff, know that I'll miss each and every one of you. Thanks for putting up with my copy editing antics, and I have utmost faith that you will all do big things post-graduation. Don't have too much fun without me in Minnesota, and please, for goodness' sake, make sure LB gets to an Oxygen Bar this time.
Alyssa Bowers, Layout Editor
I still question how I got here and how it is already coming to an end. I came to Lewis as a transfer student not too sure if I had made the right decision. Previously switching schools and changing my major about 70 times (at least that's what it feels like), was pretty nerve-wracking. However, I feel confident in saying that I am happy with everything I have accomplished here at Lewis.
After taking publication design, I was recommended to apply for the layout editor position that had recently opened up on The Flyer. Designing is something that did not always come natural to me but something that I wanted to learn. With the help and expertise from Audrey and Kendra, I've learned more than I ever imagined.
While I am sad to say goodbye and end this chapter in my life, I am so happy to begin planning for my bright future ahead of me.
I would like to thank my family and friends for their continual love and support. Having all of you in my life has definitely shaped the person I am today.
I will forever be grateful for the opportunities The Flyer has provided me and feel honored to have been a part of such an incredible staff. Thank you again to everyone who made it such a special, wonderful place.
Farewell, Lewis University!
Brent Sumner, Tempo Editor
As I sit at my desk trying to conclude my two and a half years spent on "the Flyer", I find myself short on words. I was never one to get sentimental, and now that I am graduating, I am finding it harder and harder to summarize my experiences here.
I transferred here at the start of my junior year with very little knowledge of the campus. I didn't know which professors were the easiest, what organizations to join or where to grab a good bite to eat.
However, it wasn't until after my first semester when David Anderson approached me and asked if I would be interested in writing for the campus newspaper. Looking back now, I am forever thankful that Anderson told me about the opportunity, because I have become part of a family away from home.
These four and a half years spent in college (Yeah, I know, I am a super senior) have truly been the best years of my life so far. Not only have I received a great education from excellent professors, but I have also been able to step out of my comfort zone and try many different things.
I was able to do an internship with a small town newspaper, interviewing total strangers and developing in-depth features. I also played on the rugby team, where I was eventually elected as president of the organization.
I wouldn't trade the experiences for anything, and I am forever in debt to the people that have helped me along the way.
I would first like to thank the staff of the Lewis Flyer. The inspiring team of writers, designers and editors have taught me just how successful one can be with hard work. Although we spend hours laying out the newspaper, and getting out at 3 a.m., it is always wonderful to see the hard work pay off on those Monday mornings.
I would also like to thank the staff members in the journalism department. Without Ben Eveloff, Lisa O'Toole, Samuel Enyia and Dave Anderson, I would simply not be where I am today. All of you work tirelessly to give us a proper education, and I am truly thankful.
Lastly, I would like to thank my friends and family. Not only have you supported me through the years, but you have stood by me through the good and the bad. I love all of you, and I couldn't have done it without you.
While I may have to be dragged up on the stage during graduation, I will receive my diploma with a smile on my face. I know that I have been prepared for whatever is down the road, and I look forward to the years to come. Thank you Lewis, stay classy.
Anthony Lyen, Editor-In-Chief
I was never given an opportunity to be a journalist when I was in high school. Every year, I asked to register for the journalism course because I felt I had a knack for writing. My teachers, however, disagreed, citing a lack of good grades – apparently straight B's just don't cut it – in my English courses as the primary reason.
When I came to Lewis, I was an undecided major, struggling to find a true sense of identity. I made sure, however, to get involved and meet new people immediately.
Beyond the friendships and groups, however, I was still trying to find out what I enjoyed doing. What was I really good at? I mean, I always liked writing, but my experiences in high school told me that wasn't the path I was meant to follow.
I had Lisa O'Toole as a professor for my intro to human communication course, and that's when everything changed. Lisa saw potential in me. She understood I had a talent – and obvious enjoyment – for writing. She told me to consider applying for the print edition of The Flyer.
Two-and-a-half years have gone by since that encounter, and three editorial staff positions later, here I am, writing my senior goodbye.
I've met a lot of wonderful people throughout this incredible journey. The staff I have worked with over these five semesters are some of the most hard-working yet enjoyable people you could imagine. These people didn't just become coworkers. They became friends.
Being on "The Flyer" has not been an easy job, that's for sure. But it has definitely been a rewarding one. Dr. David Anderson, Ben Eveloff, Lisa O'Toole and the many people who have given me both advice and criticism have helped me to grow tremendously as a writer. A big thanks also goes to every single staff member I have worked with over the past two-and-a-half years. They all pushed me to do exactly what I do best: write.
Student teaching a first grade class this spring will provide me with a whole other unique and life-changing experience. Because that's what life is about: the experiences and who we share them with.
So thank you to everyone who read my articles. Love them or hate them, I made you feel something. Whether that feeling was informed, entertained or maybe even downright angry, I did what I enjoyed. And you know what? It was worth it.