Practice, Patience and Poise: Yon Quintero Does It All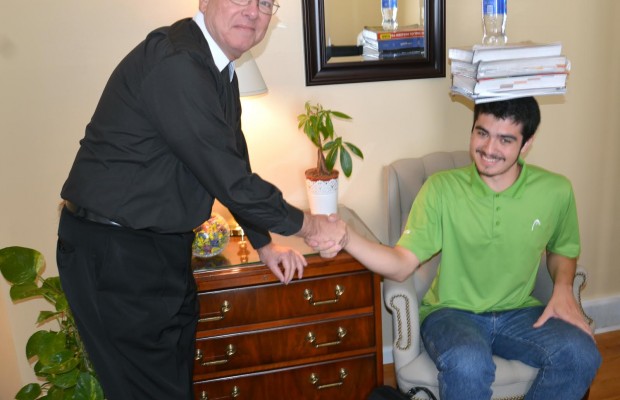 Photo provided by Brother Peter Hannon: Yon Quintero has drawn a lot of attention around campus for his well-known balancing act.
Lauren Grady, Assistant Tempo Editor
Whether he's walking across the campus green balancing his laptop on his head or holding open the door for you with a couple books balanced, almost every student at Lewis knows of the "kid who balances stuff on his head."
His name is Yon Quintero Centeno, and he is a sophomore dental hygiene major from Bourbonnais, Ill.
What would cause someone to balance things on their head everywhere they go, one might ask? In Yon's case, nothing in particular. He didn't do it because he was dared, and he didn't do it because he was trying to break a world record. He started to balance just because. He began his balancing act with a pencil case in 6th grade, and his hobby just took off from there.
Ever since then, Yon has been walking around balancing anything from books to orange juice bottles on his head. His record? 12 books. Yep, 12. That's, give or take 3 pounds a book, times 12 books would make that over 36 pounds balanced on top of his head. Now add in the walking across campus and holding open doors for people, and you start to see what a talent he has.
A normal person would expect a pounding head, but Quintero just gets the occasional neck ache.
"Sometimes my neck starts to cramp up and hurt," he said. "When that happens, I just take a break and get back to it after a few days."
The easiest thing to balance, according to Quintero? A Gatorade bottle or pencil case. They have a flat bottom and can be balanced with virtually no effort for him. On the other hand, it's the round objects, such as pool balls, that make balancing and walking a feat.
Now, most people would think that he does this "balancing act" simply for the attention it brings, but that's not the case at all.
"Yes, I do see that it brings attention to me, but that's certainly not why I do it. I'm okay with the attention, though, because I'm just doing what I love!" he said.
The balancing doesn't just stop when the school year does, either. Yon balances year round, whether it's in the summer at the pool or trying to avoid icy patches in the winter. And that's why he has become such a professional at what he does. Practice truly does make perfect!
"People always ask me how I do it; they think it looks so hard! But it's just a lot of practice and finding your center of balance," he said.
So, what's the most ridiculous thing people ask him?
"It's weird, but people ask me all the time if I have a flat head. I don't, I just know where to put things where they will best balance. I just think it's funny that they'd think that!"
Practice, patience and lots of poise. That's what Quintero has mastered over the years with his knack for balancing.