Lewis Hosts 9th Annual Holiday Spectacular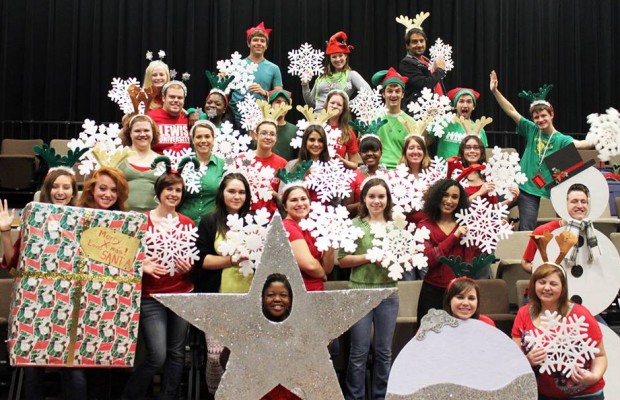 Photo provided by Jo Slowik: Lewis students show off their talent and holiday spirit in the 9th Annual Holiday Spectacular.
Kristen Fazio, Contributor
The 9th Annual Holiday Spectacular took place December 5, 6 and 7 in the Philip Lynch Theatre.
Directed by Jo Slowik, the cast and crew worked on the performance since October 18.
"(We) have been learning choreography, blocking, music, as well as memorizing to prepare for the Holiday Spectacular," junior English major and theater minor Victoria Vega said prior to the start of the show.
There were many aspects to the show; it wasn't limited to just acting.
"There [were] skits, musical numbers and scenes that allow for audience participation," said Vega.
"It's Saturday Night Live but family friendly," said Slowik in preparation for the show. "There's a lot of singing and dance in the show. It's like a variety show with sketches and things like that."
Also, included were many parodies. Songs performed included Avicii's "Wake Me Up," Lady Gaga's  "Bad Romance" as "My Snow Pants," the Black Eyed Pea's "Boom Boom Pow" as "Gotta Get Gifts" and even a more traditional Christmas mash-up between "Silent Night" and "O Holy Night." Fittingly, the show closed with a "10 Days of Lewis" song.
"It's geared toward families; we [took] digital photos of little kids with Santa before the show. We really keep in mind that we are a college program, so we [wanted] to appeal to the average college student to come see the show," said Slowik.
It was an opportunity to spend time with family and friends during the holiday season.
"It [was] a wonderful gift to take someone to the Christmas show because it's the gift of time," said Slowik.
Slowik, students and alumni have built upon the show year in and year out and are already thinking about and wondering what will be in store for their 10th anniversary show.