Lewis' Hockey Club Has Built 'Strong Foundation'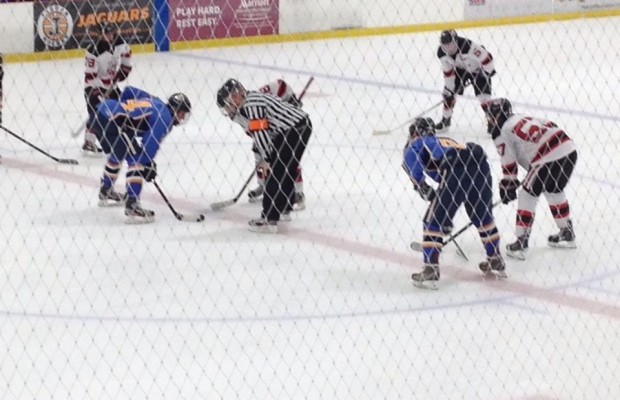 Lewis prepares for a faceoff against Marquette after taking the lead 3-2 in the second period on Nov. 9. They would win the game 5-4, coming from behind with a two-goal third period.
Brian Neal, Sports Editor
The Lewis University hockey club, now in its fourth season, looks much different in 2013 than it did in 2010.
Back in their inaugural season, there were just 10-12 guys who got together and wanted to play hockey. So, they started a club, and without much direction, began to play. One player who has been with the team the entirety of its existence is senior David Jackson, and he talked about how the team has changed.
"Year one, we were just a bunch of guys who wanted to play hockey, and we didn't really have any goal of making it anywhere, we just wanted to go out and skate," Jackson said.  "We had a student that was actually our coach; we weren't really structured."
Today, the team has 27 players on their roster — all from Lewis — as well as a real head coach and assistant coach. The Flyers also play in the American Collegiate Hockey Association (ACHA), and are in the same division as schools like Notre Dame, Michigan, DePaul and Illinois, among many others.
"The current state of the program is much greater and bigger and more organized than when it first started," Club President junior Kevin Hart said. "So, the club has doubled in size, in talent and in the coaching staff, and now we're playing full seasons against highly competitive teams."
Not only has the program grown in size, but in success as well. After two seasons of sub-.500 records, the Flyers finished with an overall record of 15-9 in ACHA play, and 7-2 in MACHA competition (Mid-American Collegiate Hockey Association). This year, they are only 6-11 so far, but have increased their level of competition having played Illinois twice (split), Northwestern twice (lost both), DePaul twice (lost both), Notre Dame once (lost) and Marquette twice (split).
The next step for the program, according to Hart, is to just keep building and growing.
"We're a young team now," Hart said. "Most of the team is made up of freshmen and sophomores, and I think we have three juniors and three seniors now. We've got a mixed talent level, and it'll be good in a year or two from now when the freshmen and sophomores are juniors and seniors; we have a good foundation to build off of."
Jackson echoed Hart's thoughts on the team. He believes they've got a good foundation and just need to keep practicing and playing with each other to build the team going forward.
"This is one of our first years where we have a real solid program, we have a lot of guys interested," Jackson said. "This year, I hope we can start working as a team and build a strong foundation for the next couple years."
One of those freshmen, Brad Hojek — who is also a military veteran — spoke about how good he believes the team can be in the future when he's a senior.
"If we continue to grow, the sky is the limit," Hojek said. "I know in the last three years the program has already made huge gains, and I'm just happy to be a part of it while it's still growing, and hopefully by the time I'm done here, I can see exactly where it's gonna be at. But if we continue to get the players that we're getting, and if we just continue to work hard, I think the program will do very well."
The Flyers play the majority of their home games at Canlan Ice Arena, 1581 W Normantown Road in Romeoville.
Lewis plays 10 more games this season, and five of them are at home at Canlan. Their next game at Canlan is against Eastern Illinois on Dec. 13 at 7:30 p.m.  Hart wanted to get this message to Lewis students.
"Come out to the games," Hart said. "They're Friday and Saturday nights against local universities, so come have fun watching some hockey."
The rest of their schedule, as well as a roster list, team history and statistics can be found at lewisuniversityhockey.com.