Angelo Era Abusing Bears' Defense More Than Ever Now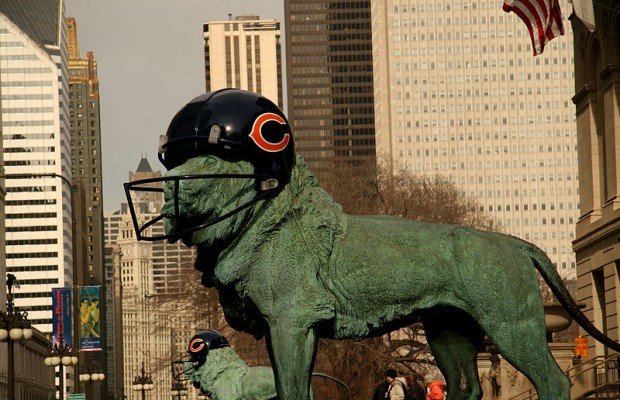 Photo from Wikimedia Commons.
Joe Ledger, Contributor
Jerry Angelo is still roaming somewhere throughout the Chicago Bears organization. Of course, not physically, but what we're seeing from this horrendous defense this year, he still, in a sense is lingering with this team.
With current GM Phil Emery taking over the Bears roster decisions in 2012, he has had lots of baggage and headaches to deal with on both sides of the ball from previous GM Angelo.  From observing the jump from last year to this year in the offense, it is safe to say that Emery so far has made drastic changes to fix what was given to him.
With Emery's hands tied in his first season, he wasted no time to start his smart, nerdy, Emery-like plan after firing Lovie Smith and crew after finishing 10-6 with no playoffs for the third-straight year.
Arriving with the main focal points of the Bears offense in Cutler and Forte already in place, Emery has gone full force in reconstructing this once gut-wrenching offense. Emery started out fast by trading for Brandon Marshall and drafting Alshon Jeffery, who so far has turned out to be the trusted No. 2 guy for the offense (funny to say that considering Angelo never could seem to find even one good wide receiver).
After Smith, Emery went out and brought in his weird sidekick Marc Trestman to add to the puzzle that needed to be solved fast. Emery also brought in free agents and draft picks this past offseason to help out this offense for the current season. Those decisions have been reflected on what we have seen on the field, which is a lot of success. But what about the defense? Can this make-me-want-to-throw-up defense completely be pinned all on him? Heck no, considering he had to deal with Angelo's ginormous mess.
With the Bears' defense this year being historically bad, it's hard to point all the blame on Emery, Trestman and Mel Tucker. Seeing Chris Conte and Major Wright play the safety positions makes me hurl and never want to watch Bears football again. The person I blame the most for this is Angelo.
In the era of Angelo as Bears' GM, there can only be limited credit to him − acquiring Cutler, Julius Peppers, Matt Forte, Lance Briggs, Charles Tillman, Devin Hester and Robbie Gould. Other than that, can someone think of anything? I've got something − how about on the defensive side. Michael Haynes, Tank Johnson, Nathan Vasher, Dusty Dvoracek, Marcus Harrison, Jarron Gilbert (he can jump out of a pool, so he has to be good); you catch the drift. What do all these guys have in common? One, they're all bad, and two, they're no longer with the Bears. This is where Jerry Angelo is still essentially lingering.
Bad drafting on both sides of the ball has definitely been present as we have watched this Bears team the past two seasons. As said before, with the offense looking to be fixed by Emery, the defense is completely broke with nothing in the pipeline due to Angelo.
With the Bears' defense struggling more than ever this season, we have literally seen just a bunch of guys try to make a play when it's possible. Too bad no one has really done that when needed.
Looking at this defense, we see players brought in to fill voids that should have been filled by Angelo years ago. We also see the best players on the defense at the tail end of their career with no one to replace them. This is a result of the horrendous player evaluation and decision-making by Angelo.
With Emery being a generally offensive-mind GM, he has had to scramble up something on the defensive side to put on the field. It hasn't been pretty, but it's the only thing possible right now for this season. Could Emery have done more for this defense that was bound to hit rock bottom like it has? Probably, but for him to fix both sides of the ball in a matter of just two drafts and free agency periods is just unrealistic.
Emery decided to fix the offense first, which most people in the city of Chicago expected. He did it quickly, so I give him credit for that. The defense has to be his main agenda this offseason.
Emery has to figure out something to make this side of the ball field-worthy. Even though it'd be nice to have a top-five defense, it isn't really needed the way the league is shaped now. He needs a defense that can just simply keep the game within reach and force turnovers.
His first defensive pick in Shea McClellin hasn't been so great, so I hope he can hit on his next "big" pick on the defense. If not, let's hope he isn't another GM that will be still lingering around when he's released from his duties.