Who Will Win Heisman This Year?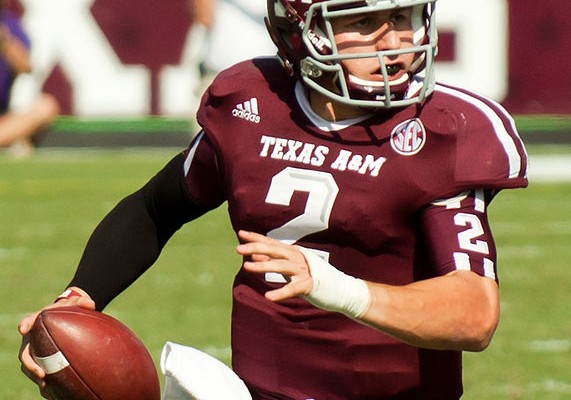 Photo from Wikimedia Commons: Johnny Manziel, QB, from Texas A&M.
Brian Neal, Sports Editor
As the college football regular season is coming to a close, one of the most interesting topics of discussion becomes who will win the coveted Heisman Trophy? This award goes to the most valuable player of one of the best teams in the nation every year, and lately, quarterback has been the trend.
Of the last 12 winners, only one has not been a QB – which was running back Mark Ingram from Alabama, though, he's been a disappointment in the NFL – and that will not be changing this year.  Of course, many players who win the Heisman don't end up panning out in the NFL (Chris Weinke, Matt Leinart, Troy Smith, Tim Tebow…).
At any rate, the award is still important at the collegiate level, and there are a few guys who are very close to each other in this race.  So, who do I rank as the top five guys in line to win it? In my eyes, there are two men at the top of board who are clearly ahead of everyone else, and then the bottom three need to have the games of their life to make a better case to move up. So, read on to find out.
1. Johnny Manziel, QB, Texas A&M
Manziel won it last year in his redshirt freshman campaign, and was absolutely brilliant.  This year, he's just as good, if not better. His passer rating has improved 30 points, and even though he's running less, he definitely seems to be showing off his arm much more than in 2012, and most likely to impress NFL scouts.
Although the Aggies are 8-2 through 10 games, there's no doubt that none of that can be put on the shoulders of Manziel.  The fact of the matter is that their defense is dreadful.
One of A&M's two losses came against Alabama, and Manziel absolutely tore up perhaps the most talented and dominant defense that college football has to offer to the tune of 464 yards passing, 98 yards on the ground and five touchdowns through the air. Despite that, they lost 49-42 because the defense couldn't slow Bama at all.
In my eyes, his production and impact on the football field is second to none, and the only thing that could stop him from receiving a second-consecutive Heisman award is if Winston absolutely kills it his last three regular season games and in the ACC Championship Game on his way to leading FSU to the title game.
Manziel for Heisman.
2. Jameis Winston, QB, Florida State
Two weeks ago, Winston was at the top of my Heisman list. He's led the Seminoles to a perfect record, and done it as redshirt freshman. After a redshirt freshman won it last season for the first time ever, I was shocked that it seemed like such an easy choice for the second year in row. However, two less-than-stellar performances against Miami and Wake Forest have changed my mind for the time being.
Of course, his amazing passer rating (tops in the NCAA) and the fact that it seems he'll have his team playing Alabama in the BCS Championship Game presents the argument that the numbers aren't the most important thing, especially considering the guy leading this list will definitely not be in the national championship.
Regardless, Winston and the No. 1 on this list will definitely be taking home the award this year. The debate between the two will continue to be red hot as the season comes to a close.
3. Marcus Mariota, QB, Oregon
The 6-foot-4, 211-pound signal caller from Honolulu, Hawaii is having an amazing season for the Ducks.  However, with the loss to Stanford two weeks ago that included uninspired play from him, I don't know that you can justify him winning the award this year.
However, his 22 touchdowns and zero interceptions nine games through the season is still extremely impressive. Then you have to factor in the nine more touchdown runs, and the fact that Oregon has still only lost one game, and he's clearly still in the discussion at least. In my opinion, though, he will not win it this year, but he will still be a high pick in this upcoming NFL Draft.
4. Bryce Petty, QB, Baylor
Petty is a guy who was on no one's radar as the season began, but now that Baylor has perhaps the most dynamic offense in the league (as well as an perfect record), he's been thrust onto the forefront of the national scene.
He's thrown 18 TDs and only one interception on the year, and also has six rushing touchdowns. While those numbers are good, they're not as great as the next three guys, and that's why he sits at No. 4. However, a few amazing performances could boost this sleeper up the list.
5. Mike Evans, WR, Texas A&M
Evans is the only non-QB on this list, and it's only because of how ridiculous his numbers have been in only his second season. Through 10 games, the Aggie has over 1,200 yards on only 57 receptions. That's good for over 22 yards per catch, which is absolutely disgusting. He's second in the entire NCAA in yards, and the guy ahead of him has 91 grabs.
Not only is he second in yards, but he's tied for third in touchdowns with 12 – seven more than all of last year, and he still has three games to play. If it weren't for who his QB was, he'd be higher on my Heisman watch.