Versteeg Back in Chicago as Hayes, Olsen Head to Florida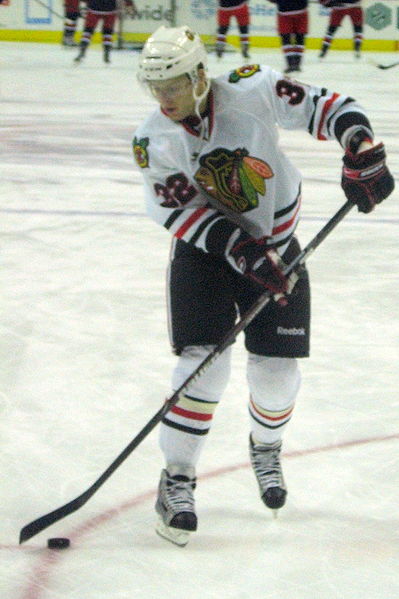 Photo from Wikimedia Commons. A four-player deal brought forward Kris Versteeg back to Chicago for his second tenure with the Blackhawks.
Anthony Lyen, Editor-In-Chief
Although their shootout win against the Phoenix Coyotes provided plenty of excitement, it was what the Chicago Blackhawks did off the ice on Nov. 14 that got hockey fans talking.
In the post-game press conference, Stan Bowman officially announced the Hawks had traded forward Jimmy Hayes and defenseman Dylan Olsen to the Florida Panthers. In return, the Blackhawks acquired prospect Phillippe Lefebrve and forward Kris Versteeg, who played a big role during the Hawks 2009-2010 season and Stanley Cup victory.
By putting defenseman Michael Kostka and forward Michal Handzus on injury reserve, the Blackhawks were able to make room for Versteeg, who is 27-years-old. He'll likely join Bryan Bickell and Andrew Shaw on the third line.
"We're always trying to improve," said general manager of the Blackhawks Stan Bowman. "Kris is well-respected within our organization and will be able to make a seamless transition to our team because of his familiarity with many of our players and with coach [Joel] Quenneville. This move strengthens our team depth, and Kris' skill is a great complement to our current roster."
Versteeg, who has two goals and five assists – seven points total – in 18 games this season, was traded in the mass salary-cap induced exodus that saw the Hawks part ways with players like Dustin Byfuglien, Andrew Ladd, Adam Burish, Brent Sopel and many others.
The trade certainly shocked Blackhawks fans everywhere. Hayes, 23, was a second-round draft pick by the Toronto Maple Leafs in 2008, but he was promptly traded to the Hawks, where he had an impressive 2011-2012 rookie season. His training camp and preseason was beyond impressive, but he couldn't translate it to regular season success, and he was sent to the Rockford IceHogs, the Blackhawks' minor league affiliate.
Olsen, 22, was a first-round selection by the Hawks in 2009, and he was sought to be one of Chicago's top defensive prospects. After a brief campaign in 2011-2012, he spent the rest of his professional career in Rockford.
One could see both sides being winners or losers in this trade. For example, while Florida lost one of their top forwards in Versteeg, he was on a bit of a slump. After some recent failure that saw their coaching staff get fired, Florida has been in need of a change, and general manager of the Panthers (and at one point, the Blackhawks) Dale Tallon has made it known. By obtaining high-potential prospects in Hayes and Olsen, Tallon could be looking to make his prospect-heavy Panthers even younger…and maybe more fierce for the future.
The Blackhawks, however, have an equally impressive prospect pool. While Jimmy Hayes did, in fact, have talent, he was never able to translate that talent and earn himself a permanent role in the NHL. The same goes for Olsen. And while it's always tough to see prospects get traded, the Hawks have young guns who are further ahead than both Hayes and Olsen.
The trade was a big move for both sides. With the Panthers desperately needing to retool their struggling franchise, change was necessary. For the Blackhawks, it was about adding even more depth at the forward position. No matter who you think wins, however, only time will tell to see how this trade pans out for both sides.