Students Race in Remembrance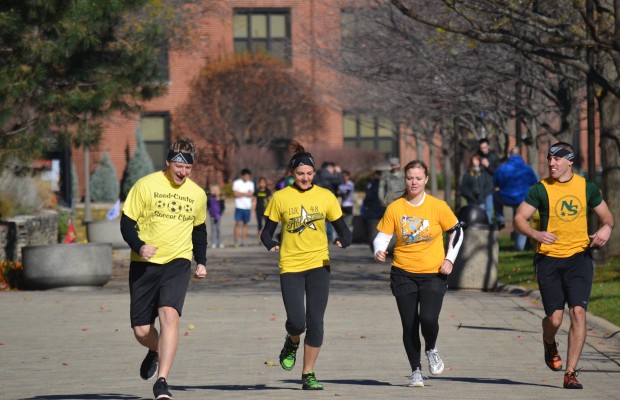 Photo provided by Marty Springer: Shannon Ott, Katherine Chandler and Dan Cronin begin the Spartan Race.
Brent Sumner, Tempo Editor
As people celebrated Veterans Day on Nov. 11, many thought about the hard work and sacrifices that soldiers have given to fight for the United States of America not only on the battlefield, but also for the training they put in to prepare for conflict.
To get a small glimpse at the exercise that service members do, on Nov. 9, the Phi Kappa Theta fraternity and Student Veterans Association put on the first Veterans Day Warrior Race, which was open to Lewis University faculty and students.
The race idea came up at the end of last year when the Student Veterans Association wanted to get more attention on campus. Patrick Pavelchik, president of the association, T'rell Campbell, vice president and scholastic chair of Phi Kappa Theta and Director of Veteran Affairs Roman Ortega decided that holding such an event would encourage students to have fun, as well as step into the shoes of a person in the military doing personal training.
"One of the things that military personnel do best is work out and perform what we call PT (physical training)," Pavelchik said. "Normally conducted on the track, it consists of spending a certain amount of time at several stations on the track and doing a lap in between. We put this idea to Lewis. We mostly just wanted to have some fun with this."
The race consisted of a two mile track that started at the pavilion outside of the Flyer's Den. Racers were challenged with six obstacles along the way, which included pull ups, hill sprints, kettle bell swings, shuttle run, burpees and a low crawl through the sand of the volleyball court.
"The low crawl is to get runners a little dirty and to bring more of a military aspect to the race," Pavelchik said.
The racers ran all over campus performing the six obstacles in a race against time. The fastest male and female times won prizes. Runners went in circuit groups of four to five participants so there was enough time in between obstacles to not interfere.
"The turnout was very surprising, because a week before the race we had seven people signed up," Campbell said. "Then, the week of the race we had about 20 people sign up, so I'm very happy about the turn out."
Nursing major and Lewis sophomore Katherine Chandler was one of the runners in attendance for the race.
"The race was a combination of challenging and fun," she said. "I would run the race again, just hopefully prepare a little more."
She also went on to say that she was happy that the weather was so nice for the event, other than the wind, which made running up the hills a little more challenging.
As for next year, both organizations hope to make the race an annual event.
"We hope in coming years to continue to put on the race, but as we gain more members and more money, we hope to out do it every year and turn it into more of an obstacle course in true military fashion," Pavelchik said. "This is the first year, and there will absolutely be more."