Flyers Start Season Off Right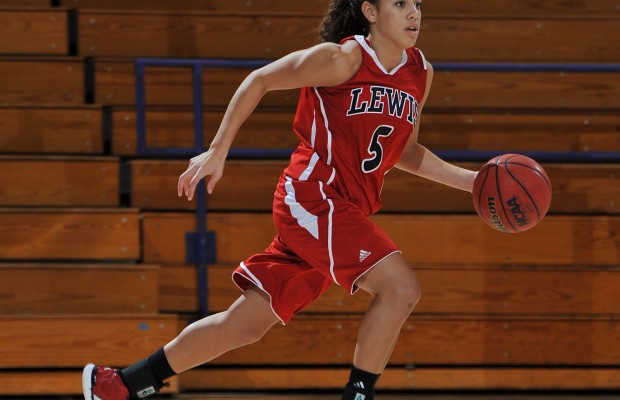 Photo provided by Steve Woltmann: Junior point guard Jamie Johnson is off to a strong start this season after missing all of last year with an ACL injury.  She leads the Flyers in assists.
Brian Neal, Sports Editor
The Lewis University women's basketball team has opened their regular season with two non-conference home wins, taking down Saginaw Valley State and Northwood on Nov. 9 and 10, respectively.
Great Lakes Valley Conference play doesn't open up until 2014, but head coach Lisa Carlsen believes the non-conference schedule holds equal importance.
"The non-conference [schedule] is huge," Carlsen said. "Some people think of it as just a warm up for the league play, when in fact, especially in Division-II, a lot of our non-conference games are regional, which come back to be huge factors when we talk about getting into the national tournament. These two games could have implications later in the season, so we have to treat every game just as important as the others."
In the home opener against Saginaw Valley State, the Flyers won 82-76. They outscored the Cardinals by three in each half. Despite allowing Saginaw Valley to shoot 50 percent in the game — while LU shot only 43.1 percent — the Flyers were able to get to the free-throw line more often, and hit a higher percentage from the stripe. They also got off eight more shot attempts in the game thanks in large part to forcing 21 turnovers and also pulling down six more boards, including seven more offensive.
Mariyah Brawner-Henley, sophomore, posted a double-double, leading the team in points and rebounds with a 24 and 11 stat line. She was 10-of-14 from the field, and added two blocks as well. Junior Jamie Johnson added 15 points, seven assists and three steals. Other Flyers who scored in double digits were senior Lauren Mead (12), junior Jess Reinhart (12) and senior Kristen Itschner (10).
Despite the win, Carlsen believes the team's defensive discipline needs to improve, as evidenced by the 50 percent shooting allowed.
"I'm not saying we don't play hard on that end, but we have too many breakdowns that take place too many times during the game," Carlsen said. "Not usually in long spurts, but against really good teams, you can't give them something easy too many times. So, we have to continue to work on things on the defensive end as far as simple discipline, man-to-man especially, principles that we're trying to instill."
The following night, Northwood came to the Neil Carey Arena and fell to Lewis 76-73, and the Flyers' defense did improve, holding the Timberwolves to a mere 38.4 shooting percentage from the floor. Meanwhile, Lewis shot 49.2 percent.
Brawner-Henley stuffed the stat sheet once again, this time scoring 21 points and pulling down 16 rebounds. She also had five rejections and two steals, all while shooting an efficient 9-for-17 from the field in 35 minutes of play.
For her two performances over the weekend, she was subsequently named the GLVC Player of the Week.
"Mariyah has established herself very early as someone that GLVC teams are going to pay attention to," Carlsen said according to the Lewis athletic information department. "She did great on both ends of the floor this weekend."
Johnson also had another strong performance, scoring 18 on 8-of-13 shooting. She also dished six assists, grabbed four rebounds and had a block and steal on the defensive end. Mead was third in scoring with 14 points, and pulled down five rebounds as well.
Something Lewis is doing particularly well is sharing the ball and being unselfish. In their first two games, 42 of their 61 shots made from the field were assisted. Meanwhile, Saginaw Valley only had 12 assists on their 32 makes, and Northwood had a measly three assists on 28 buckets. Carlsen talked about the team's growing chemistry.
"I think we're continuing to get a really good feel for each other," Carlsen said. "As experienced as we are, we still have some pieces to the puzzle that are different from last year.  Just the familiarity with each other continues to get better. We gotta know what each other's strengths and weaknesses are, especially with our style of play."
On Nov. 17, Lewis traveled to Upper Iowa to take on the Peacocks. A week later, they play Northern Michigan, and seven days after that they head over to Grand Valley State before returning home. For results, check www.lewisflyers.com.