Flyer Nation Brings School Spirit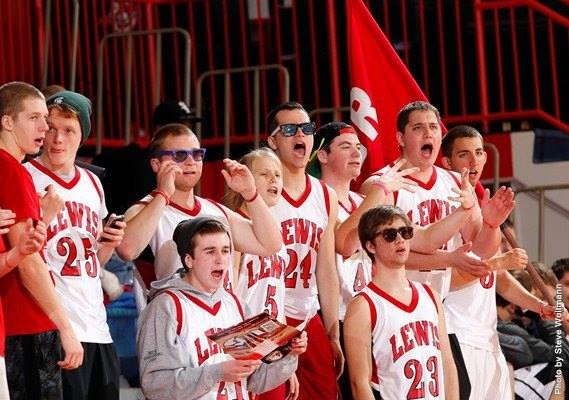 Photo provided by Steve Woltmann: Flyer Nation attends Lewis athletic events to cheer Lewis on to victory.
Dave Hansen, Online Editor-in-Chief
Kyle Hayes, Contributor
Flyer Nation takes school pride to the next level through its continuous presence at Lewis University athletic events
"Regardless of where you go, it's important to have pride in your school," said senior marketing major Bob Seiberlich.
Former roommates Seiberlich and Matt Halick founded the Lewis University group Flyer Nation two years ago.
"We're the guys that paint up," said senior aviation major Halick. "We have fat suits, skinny suits, everything. We basically like to go to the games and get loud. We want to get in the minds of the players on the other team."
While the first year of running the organization was somewhat disorganized, it has come a long way since then. As soon as the group knows what the next game is they will be attending, someone posts on the Flyer Nation Facebook page when and where group members will be at next.
"It's a great way to meet new people, and stay in touch with friends," Seiberlich said. "If you're already going to the games anyway, you might as well be involved."
Anyone can join Flyer Nation. The only preference the group's leaders have is that they purchase a $10 white Flyer Nation t-shirt, so the organization has some unity at sporting events.
"You don't even have to go to all of the games," Seiberlich said. "As long as you go around wearing our t-shirt, it lets other people know about us, which is free advertising.
Flyer Nation has sold roughly 500 t-shirts all together, and had over 250 people wearing their swag at a home men's volleyball game versus Ohio State last spring.
"Matt [Halick] and I looked at the crowd, and it was like 'look at what 'we've done,'" Seiberlich said. "We were the catalysts for this, but it's become something way bigger than us."
When the group first started, there were times when it was Halick, Seiberlich and a couple others. However, if a student attends a Lewis contest against a well-known rival, it isn't unusual to see hundreds of Flyer Nation members in attendance.
"People come up to me at games that want to get in it, and I let them know when we're going to be out," said Halick, who added a lot of currents members are from the fraternity Phi Kappa Theta.
Any time that the Bellarmine men's basketball team comes to Lewis to play, it's regularly a big event for Flyer Nation.
"It's always a blast when Bellarmine is here," Halick said. "They're national champs and looking to [enter] Division I. So whenever they come into our gym, I cannot wait for the game."
While Halick and Seiberlich are going to be graduating in May 2014, the group plans to move forward with the help of younger underclassmen.
"I did something called 'Mustang Maniacs' in high school, and we had a blast at every game we attended," said freshman criminal justice major Tom Adent, who is one of the front runners to take over the organization next year.
Adent raised money for a charity while attending St. Rita High School, and would like to help out local organizations as well in the future with Flyer Nation.
"It's really been one of the coolest things I've ever done at Lewis," Halick said.