Women's Soccer Ends Tough 4-Game Stretch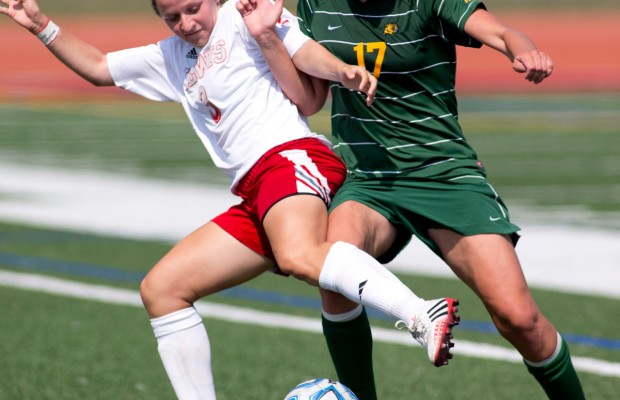 Photo provided by Steve Woltmann: Freshman Meg Carmody has helped the Flyers tremendously so far this season, and is third on the team in points with three goals and four assists.
Bob Whittingham, Contributor
Brian Neal, Sports Editor
Before Oct. 4, the Lewis University women's soccer team had only lost one game, sitting at 6-1-1. However, that changed in the past four games, as they dropped three in a row before winning their latest.
The squad battled Bellarmine Oct. 4, and held an 8-5 advantage on shots during the scoreless first half of the game, but wound up losing 2-0.
The Knights broke the tie in the 59th minute when Lauren Boyd got past the Lewis defense and goalkeeper Arianna Nie to score. They then increased their score to 2-0 when Boyd put another one in the back of the net at 66:35.
"We struggled to recognize that the level of play, urgency and fight we need to show up with on the road needs to be higher than at home," Lewis head women's soccer coach Chris Koenig said. "We need to make sure we do a better job recognizing that going into our game on Sunday at McKendree."
The Flyers' leading scorer sophomore Jessica Chavez took five of the squad's eight shots, with three on goal.
Although Koenig stressed that the ladies needed to bring more urgency and fight to their road games, they came up short once more when they were overcome in Lebanon, Ill. against McKendree Oct. 6.
The Bearcats got on the board first at 17:05 when Alyssa Reiniger's shot got past freshman goalkeeper Jennifer Meyer. Reiniger then recorded her second goal of the afternoon at the 63rd-minute mark. 2-0 was the final once again.
Lewis took 16 shots, with five of those on goal, while holding McKendree to only eight shots awith three on net.
"Today was an extremely physical game," Koenig said. "We expected that, but we weren't able to dictate much of our style of play, forcing us to chase them. We pressed, battled and came with more energy today. We gave up two goals that we couldn't afford to do to a team like McKendree on the road."
The final of their three-game losing streak took place Oct. 11 at home against Southern Indiana. They would lose this one 1-0, with the only goal being scored overtime during the 97th minute.
"We defended well for a large portion of the game," Koenig said via the Athletic Information Department. "We did a lot of things well tonight, which is frustrating when we don't get the win."
Lewis was able to rebound, though, snapping the string of scoreless games with a 3-1 victory over Illinois-Springfield Oct. 13.
Sophomore Lauren Grady and freshman Meg Carmody each scored in the first half, and were assisted by junior Jennie Coughlin and Chavez, respectively. Before the half ended, they did surrender a goal, but would give themselves some cushion with a second-half shot that found net. That goal was scored by Coughlin, and she was assisted by junior Susan Thomas and sophomore Maggie Moran.
"It was good that we got the result today," Koenig said via the Athletic Information Department. "Lauren's goal from Jennie was a quality goal that gave us some momentum early. In the second half, we did a better job getting control of the game and connecting on more than two or three passes."
The Flyers took on Rockhurst and William Jewell this past weekend.  For results, check lewisflyers.com.
Their next pair of games will be Oct. 25 and 27 on the road against Missouri S&T and Drury.