Lewis University Confessions: A Place to Complain?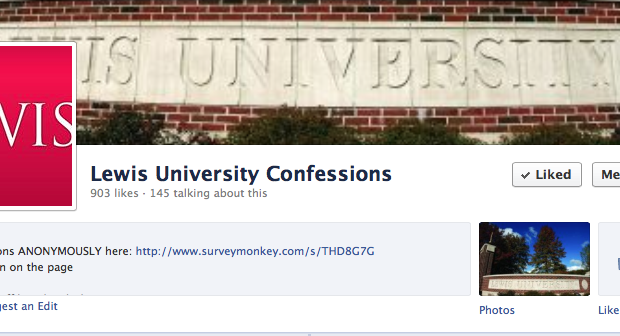 Image from Facebook.
Staff Editorial
Do you ever feel like complaining about college life in general or specifically targeting one issue that irritates you? Well, apparently so do a lot of other students who go to Lewis University, and it is becoming quite ridiculous.
Social media nowadays has gradually gone from a source to connect with friends and family to becoming one's own public diary.
Please do yourself a favor and journal your annoyances for only you to see.
Some may argue the Lewis University Confessions Facebook page brings students closer together by bringing issues and concerns to light. One could also argue, however, the page acts more like a place for Lewis students to do what they do best: complain.
"I've seen a lot of school confession pages, and most of them are usually stories of underage binge drinking and crazy things that happen on campus," freshman Brittany Long said. "On the other hand, the Lewis confession page seems like a place to complain or talk about how you feel at school. It's also a really small confession page compared to all the other ones I have seen."
The Lewis University Confessions page can be full of brutal honesty and ridiculous humor, don't get me wrong. But since Lewis is a LaSallian school that emphasizes moral values, the page's anonymous moderator should filter through some of the posts before they are made visible to those who have "liked" the page.
"I dislike when posts put me in a helpless position," senior chemistry major Natalie Garcia said. "When someone says something that they need help but you don't know how to get help for them because it's anonymous. I do like the compliments and positive support that people show one another."
Not knowing who is posting for the remainder of Lewis students to see doesn't help fix problems. Sure, you can comment and give advice, but let's be honest. Everyone knows advice can only go so far because it depends on how the other person takes it.
It doesn't help that it's difficult to tell at times whether some of the posts are written in sincerity or if it's someone trying to get a rise out of the 900 plus people who have "liked" the page.
We all know Lewis students love to complain, but head over to Barnes and Noble and buy yourself a diary. The rest of us don't want to see it anymore.